PTK Earn Top Awards at KS/NB Convention
---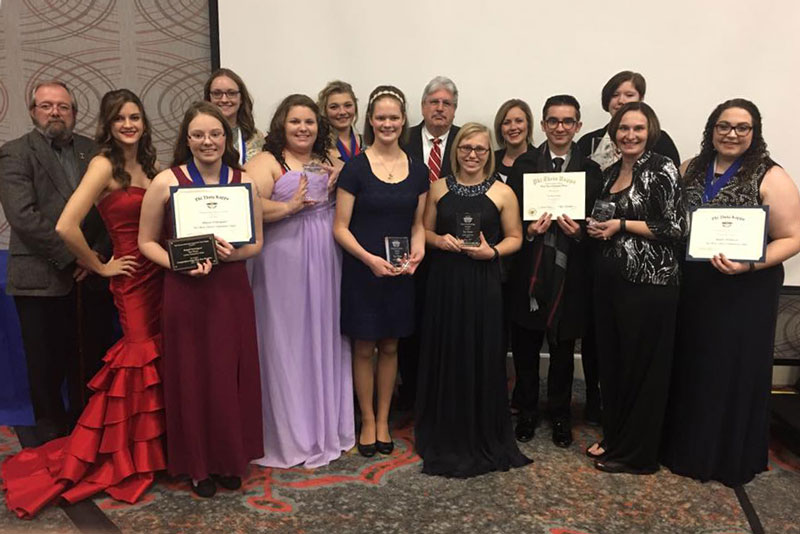 Front Row: Abigail Dominguez, Stephane Bush, Amber Helwig, Britney Hueston, Joshua Elliott, Tammy Fuentez, Megan Thompson Back Row: Robert Armstrong, Sydney Horn, Nicole Smith, Sydney Pemberton, George Knox, Keri Thompson, Henrike Kattoll
Parsons, KS- The Labette Community College Tau Theta Chapter of Phi Theta Kappa traveled to Wichita, Kansas March 3-5th for the Kansas-Nebraska Region Convention.
The LCC Tau Theta Chapter returned to Parsons as the 'Most Outstanding Chapter' in the Region. There are 46 chapters in the Kansas-Nebraska region.
The Tau Theta Chapter earned the following awards:
Most Outstanding Chapter
College Project Award – 1st Place
Honors in Action Award – 1st Place
Service Award – 3rd Place
Sister Chapter Award – 1st Place
Five Star Chapter Award
Distinguished Chapter Officer Team – 2nd Place for Megan Thompson, Sydney Pemberton, Abigail Dominguez, and Kelsie Coltrane
Distinguished Chapter Officer Award – 3rd Place for Abigail Dominguez and Honorable Mention for Megan Thompson
Continued Excellence In Advising Award – 2nd Place for Tammy Fuentez
Distinguished College President Award – Dr. Knox
Five Star Member Awards for Abigail Dominguez and Kelsie Coltrane
Nicole Smith was elected as Vice President of Public Relations for the Kansas/Nebraska Region.
The Tau Theta chapter will travel to Nashville, Tennessee on April 4-9 for the PTK International Convention.
Phi Theta Kappa is an invitation-only international honor society for two-year colleges. Students must have a 3.25 or better GPA to be considered.