LCC Student Support Services Scholar, February 2019
---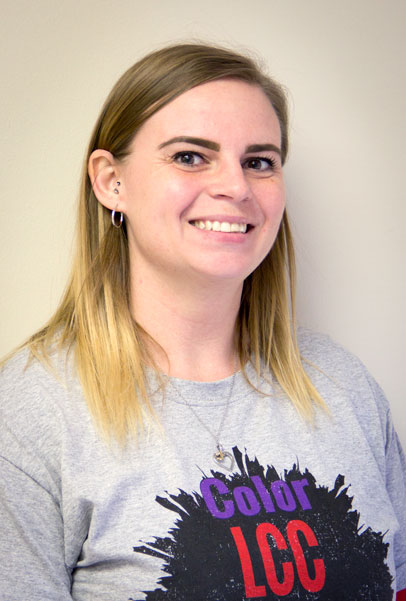 Parsons, KS- Student Support Services (SSS) of Labette Community College (LCC) announces the February SSS Scholar, Michelle Vogts of Thayer, KS. Vogts is currently in her second semester of the 1st year of the LCC Nursing program and plans to graduate in May of 2020.
Once she has completed her Associate in Applied Science in Nursing, she will work toward completion of her Bachelor of Science in Nursing. She has further goals of possibly applying for admission to a Physician Assistant program and bridging to a Doctor of Osteopathic Medicine (DO) or Doctor of Nursing Practice (DNP) program.
Vogts is an active member of the Labette Community College Student Nurses Association. 
She credits her family as factors in her success: "My family has been my inspiration. I have 2 children, Talan and Piper, who I want to show that hard work pays off. My sister, Kristen Morris, went through this program and graduated in 2017, so a little sibling rivalry has helped with motivation as well. She has helped me a lot so far, and I am glad to have her."
Another relationship essential to her success as a student has been with her Student Support Services Academic Advisor, Elizabeth Robinson: "SSS has been so much help! Elizabeth and I have spent several hours talking about my future and what would be the best route for me." She continued, "SSS has given me a recorder to use, books when I needed them, guidance and suggestions in classes....Elizabeth has been great!"
Vogts adds, "I am a non-traditional student. I have worked a full time job, sometimes two, while going to school full time and trying to manage kids. My baby just turned one last week; she was born the first week of class last Spring, and my teachers were great in accommodating that! The school has been great in having the classes that I have needed and when I have needed them. The selection of night classes and online classes are what made it possible for me to go to school and keep up with my busy schedule. It is never too late to go back to school and chase your dreams! There is always a way to make it happen."
Student Support Services is a TRIO Program funded by the United States Department of Education to improve the persistence, transfer, and graduation rates of first-generation and income-eligible college students at LCC.  Student Support Services serves 200 students each year with an annual budget of $308,173.