---
The Cardinal Cafe is
OPEN TO THE PUBLIC
---
Breakfast served
7:00-10:00 a.m.
Lunch served
11:00-1:30 p.m.
---
Spring Meal Plan
1 meal (either breakfast or lunch) $5.59 per meal.
Total Cost $430.00
2 meals (breakfast and lunch) $11.18.
Total Cost $860.00
---
Free coffee for LCC employees until 9:00 am

---
(620) 820-1184
Cardinal Cafe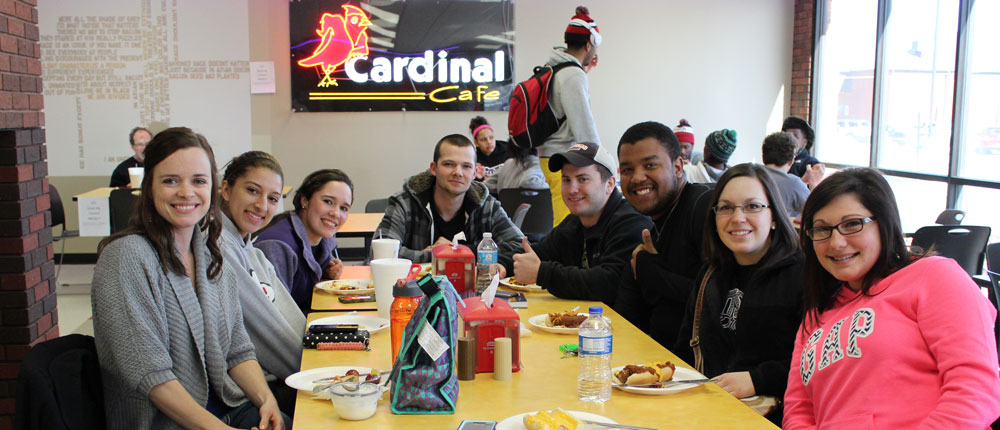 Daily Specials

DAILY SPECIALS

LUNCH

09/27
Fried Ravioli, Breadstick, Medium Drink $5.89
09/28
Beef or Cheese Enchilada, Rice, Medium Drink $6.49
The Cardinal Café will Close at 1:00 Tuesday September 28,th If you would like to place a order to pick up by 1:15 Please call by 1:00.
09/29
Pulled Pork Sandwich, Chips, Medium Drink $5.79
09/30
BLT Wraps, Fries, Medium Drink $6.59
10/01
Cook to order

New Prices on Salad Bar:
Small $3.99 plus tax 
Large $5.89 plus tax
We will have gloves on the salad bar, and we are asking everyone to please wear gloves when getting your salad.