Nursing Department
Labette Community College established its nursing program in 1968. Since that date, over 1500 nurses have graduated and taken the NCLEX-RN exam to become registered nurses.
---
The Labette Community College Nursing Program is a Bi-Level program, and is approved by the:
Kansas State Board of Nursing (KSBN)
Landon State Office Building
900 SW Jackson, Ste. 1051
Topeka, KS 66612-1230
(785) 296-4929
https://ksbn.kansas.gov
---
The Associate Degree Nursing Program at Labette Community College located in Parsons, Kansas is accredited by the:
Accreditation Commission for Education in Nursing (ACEN)
3390 Peachtree Road NE, Suite 1400
Atlanta, GA 30326
(404) 975-5000
www.acenursing.org
The most recent accreditation decision made by the ACEN Board of Commissioners for the Associate Degree Nursing Program is Continuing Accreditation. View the public information disclosed by the ACEN regarding this program at http://www.acenursing.com/accreditedprograms/programsearch.htm.
---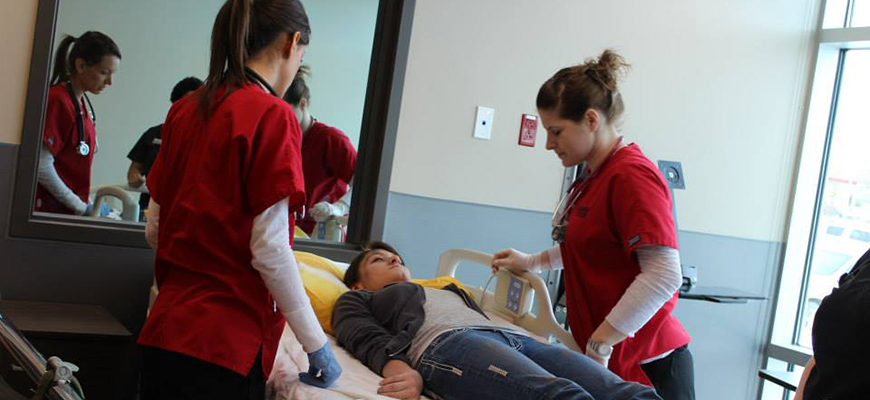 This program is designed for career mobility for the Licensed Practical Nurse (LPN) to transition into the role of the Registered Nurse (RN). Graduates are prepared to take both the Practical Nurse Licensure Exam (NCLEX-PN) and the Registered Nurse Licensure Exam (NCLEX-RN). Under the Kansas Statewide Nursing Articulation Plan, LCC nursing graduates may also continue studies at colleges or universities in Kansas that offer bachelor's degrees in nursing.
Students interested in the Nursing Program can be admitted to the College on the same basis as other students, but admission to the College does not ensure admission into the Nursing Program. Selection and acceptance into the Nursing Program is based on the criteria established by the department.
If you select this program, you will automatically be assigned to the Health Science major until you are admitted into that specific program.
To obtain an application packet contact the Nursing Program at (620) 820-1263 or by email at sherrys@labette.edu.