Clay Receives Adjunct Faculty of the Year
---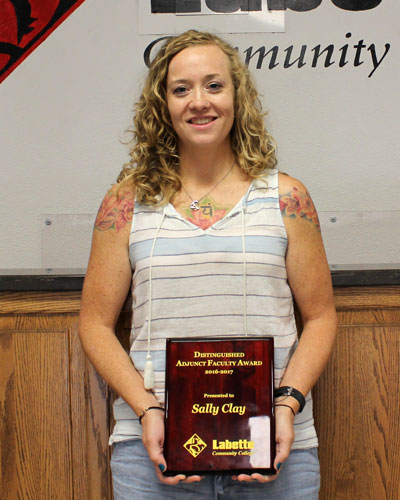 Parsons, KS- Labette Community College recently announced that Sally Clay, was named the 2017 Adjunct Faculty of the Year Award Recipient. Clay is an adjunct instructor of psychology at LCC and also teaches English at Parsons High School.
The Distinguished Adjunct Faculty Award at LCC was developed on the premise that faculty members who have performed in an exemplary manner should be publicly recognized and rewarded. The criteria areas for the award are:  teaching effectiveness, college service, involvement with students, and community engagement. All adjunct faculty who have completed at least four years of teaching service to LCC are eligible for the award and there is a three-year interim before a recipient is eligible to be selected for the award again. Faculty may be nominated by full-time employees, adjunct faculty, and students.
In support of LCC's mission statement and high quality of instruction, Clay has developed and employed new and unique teaching methods, upgraded teaching content and style, and focused on student learning through educational philosophy, and inter-disciplinary teaching.
"When I develop online classes, I incorporate all methods of learning as well as all levels of Bloom's Taxonomy. Each week I include a Discussion Board in order to engage students in conversations related to topics associated with psychology," said Clay. "For example, I pose the question of whether or not students would have a "designer baby" (choose eye color, height, etc.) if money were no option and the technology existed. I then further challenge them by asking what if they could eliminate a genetic disorder such as Down's Syndrome or cystic fibrosis. I encourage a community of respect in my classes."
Clay ensures the students a connection between what they learn in class and their personal and/or professional lives through weekly internet assignment options. She also attends many extra-curricular activities of her students, even attending out of town ball games just to meet an online student. She also judges forensics and debate. 
Clay's students have many positive comments about her teaching style. " She is a very devoted teacher and is always willing to help when you need it. She helps us improve. You can tell that she really cares about teaching us this information," said one student.
Another student said, "She makes sure all students can follow along and keep up with coursework. She promptly returns emails and explains thoroughly. She takes pride in her work and cares about her students and it shows."
Clay demonstrates her leadership by being an effective liaison between the public high schools and the college. "I feel my job is not only to teach psychology classes, but to help my high school students become responsible college students," said Clay. "Students who take my online classes report positive experiences and recruit more students to take my class. Many 101 students go on to request my 201 class because they had a positive learning experience."
For more information about the Adjunct Faculty of the Year award, contact Janice Every at janicec@labette.edu.