LCC Distinguished Alumni Award Recipients Announced
---
Parsons, KS- Labette Community College announces that the 11th Annual Distinguished Alumni Award recipients are: Sandy Babcock and Alan Thiebaud. The Distinguished Alumni Award was developed by the Labette Community College Foundation and Alumni Association Board to honor alumni of LCC that have proved to be successful individuals within their communities, careers, and families. The recipients for 2019 will be honored at a luncheon on May 10th, 2019, and at commencement that evening. 
These individuals all attended or graduated LCC and have accomplished many great things in the years following their time at the college. The following biographies give insight to how they have made an impact on whom and whatever they are involved in and why they are deserving of this award.
---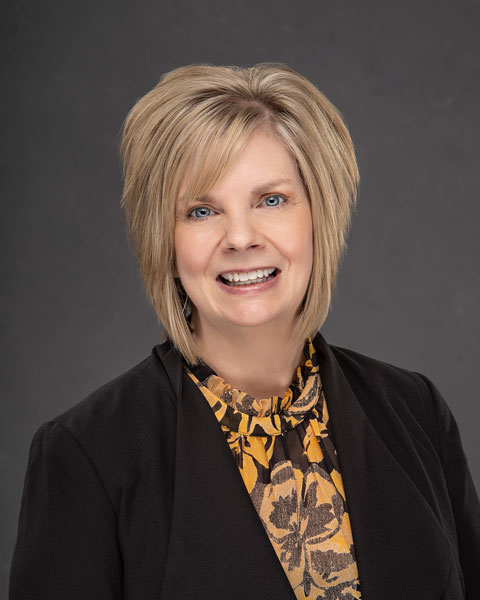 Sandy (Tanner) Babcock was born and raised in rural Parsons, KS. She attended Meadow View Grade School and graduated from Labette County High School in 1979. The following spring, she entered Labette Community College, focusing on business classes. In April of 1980, she married her high school sweetheart, Richard Babcock. At that time, she put her full-time education on hold and accepted a position in the Dean's office at the college. She continued working on her college classes as a non-traditional student and graduated in 1986 with an Associate of Arts degree.
Sandy started her family in 1982 with the arrival of her son, Michael, followed in 1986 by a daughter, Melissa. Both of her children attended Guthridge Grade School, where Sandy actively served on the PTO board and was President. Richard and Sandy worked diligently along with other kindergarten parents to revive the struggling organization. Her children attended Parsons Middle School, where she was again President of the PTO and served on the board. Her kids then went to Parsons High School, where she was on the Site Council. Sandy and her family are members of the St. Patrick's Catholic Church.  
The Babcock's, along with partners, purchased the Individual Mausoleum Company in the late 1980s. Sandy left her position at LCC to become more involved in the business. She was active in sales, marketing and managing the office. The company continued to grow with the addition of many monument shops and the acquisition of Bruce Memorials. They later sold the business in 1999. It was during this time that Sandy became very involved with the Parsons Chamber of Commerce, serving on the board, committees, and as the President in 2000. After a hiatus of several years from the Chamber board, she gladly returned to serve again. She was President of the Chamber for another term in 2017 and remains active on the board.
In early 2003, she and her husband established Babcock Manufacturing, a granite countertop fabrication facility. Quickly following was the opening of The Home Store, a business model they created to address the need for interior design, products and installation in the area. The Home Store has become a cornerstone of the downtown business area and is considered a destination point for Parsons. They opened a satellite showroom in Bartlesville during 2010 and in 2011 they acquired a custom cabinet shop, Vision Woodworks, in Cherryvale. Sandy shares in the management duties and handles the marketing aspect of the business. Babcock Manufacturing was recognized in 2004 by the Kansas Department of Commerce as the Regional Best Business. The Parsons Chamber of Commerce in 2005 presented them with Business of the Year. The Chamber recognized the Babcock's community efforts with the 2013 Chamber Citation award. In 2014, they were nominated by the ESGR (Employer Support of the Guard and Reserve) for the Patriotic Employer award. As a result of that award, they were honored by the Department of Defense and given the Pro Patria award. This is the highest level of recognition that may be bestowed by an ESGR State Committee.  
Sandy has in recent years served on numerous boards, including the Parsons Community Development Corporation, the LCC Foundation, and the PSU Design Program Leadership Council. She is currently an active member of the SEK Point of Pride and is on the Executive board of the Parsons Area Community Foundation.   
Sandy loves her community and gets great joy from being involved in it. But, easily her greatest source of pride is derived from her family. Mike Babcock and his fiancé, Emily Stevens reside in Wichita, KS, while Melissa and AJ Brinkman and their two children, Kade and Kendall live in Manhattan, KS. As much as Sandy has thrived for success as a business woman, her favorite role is that of being Mimi. 
---
Alan Thiebaud grew up in Parsons, Kansas, attending McKinley Elementary School, Parsons High School and Parsons Junior College.  His father Charles was Dean of the Junior College and later President of Labette Community College.  After graduation from LCC in 1963, he went to Pittsburg State University, graduating with a degree in Business Administration in 1965 with a major in Marketing.  After graduation he went to work for Southwestern Bell Telephone as part of their fast track program for executives.  
In 1969 he married Marianna Sears and they began their married lives in Wichita, Kansas.  In 1970 they moved to Topeka where Alan worked as part of the Commercial Rates Department.  Their two children, Craig Alan and Kristin Thiebaud Brewer were born in Topeka.  In 1973 they were transferred to St. Louis where Alan's career continued to advance.  For several years, they were transferred to different places within the Southwestern Bell territory.  Throughout his entire career, Alan mentored upcoming young executives and provided them with leadership and encouragement.
Always a big part of his life involved his family and his church.  He was a coach for both basketball, softball, and baseball for his kids all through elementary school.  He volunteered for his church and community all through his life.
In 1988 the family moved to Washington, D.C. where Alan's job as a liaison for ATT with the FCC and Congress.  Moving to Austin, Texas in 1991 he became head of the State of Texas Rates and Revenue Department.  When ATT headquarters was moved to San Antonia, Alan's department was moved to Dallas.  Retiring from ATT in 2000, Alan began his work as a community and church volunteer.  His work for the children of Honduras for over 20 years earned him the Dallas Bishop's Award for Service.  He has traveled to Honduras every year to visit the projects he coordinates.  The funds he raises support both an orphanage and a nutrition center in El Progresso, Honduras.  He is also a huge supporter of his wife's efforts in the community.  Alan has volunteered at many of the agencies supported by his wife's service organization, Dallas Junior Forum.
Always looking for ways to help, Alan returned to workforce as CFO of a start- up company in 2013.  He worked there until the company was acquired by a large corporation. Currently, Alan continues his work for the children of Honduras and enjoys spending time with his two grandchildren, always encouraging and coaching them both in sports and academics.
For more information about the Distinguished Alumni Award or to nominate someone for next year, please contact, Lindi Forbes, Executive Director of Alumni and Foundation at LCC, at (620) 820-1212 or by e-mail at lindif@labette.edu.