Wesley Named Van Meter Award Recipient
---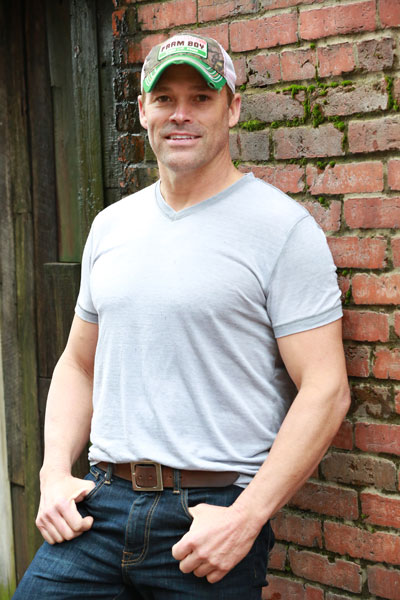 Parsons, KS- The Labette Community College Alumni Association announces the 20th Annual William & Allene Guthrie Van Meter Outstanding Alumni Achievement Award. The 2019 recipient of this prestigious award is James Wesley. Wesley grew up in Mound Valley Kansas and attended Labette County High School before moving on to Labette Community College.
James first discovered country music via his grandmother's record collection, which included plenty of classic crooners like Marty Robbins, George Jones and Ray Price. His first move into the music industry was to Eureka Springs, Arkansas, where he performed in a nightly music and variety show. 
James was signed to Warner Bros. in 1999 as James Prosser. He released one album Life Goes On before adopting the Wesley moniker.
He sold his house and almost everything in it and moved to Nashville, Tennessee. Once there, Wesley took a construction job to make ends meet and began learning about the Nashville music business. 
After relocating to Nashville, Wesley started working with songwriter Rodney Clawson and producer Dan Frizzell, signed a deal with Broken Bow Records, and released the single "Jackson Hole." The song debuted at #41 on the Billboard Hot Country Songs charts, and was followed in 2010 by a second single, "Real" that topped the charts at #22, followed by "Didn't I" at #24 In 2011.
In May of 2011, Mound Valley declared May 29th as James Wesley Day and presented him with a key to the City. He is the first person to ever receive a key from the city of Mound Valley.
James found a new level of exposure when he was the opening act for two weeks of Taylor Swift's Speak Now tour. He continued touring and more singles followed in anticipation for Wesley's debut album, Real, including "Walking Contradiction," "Thank A Farmer" and "Hooked Up" which appeared in 2012, 2013 and 2015.
James continues touring and playing corporate events across the country. One of the highlights of his career was being asked to be a part of the Merle Haggard tribute album titled "Working Man's Poet", released in April of 2014. The two Haggard songs performed by James, were "I'm a Lonesome Fugitive" and "The Fightin' Side of me". ​
His new EP James Wesley was released May 10, 2019 features 5 all-new James Wesley originals. 
The Van Meter award will be presented at the 22nd Annual Donor Appreciation Luncheon on Friday, November 1st. The award was named in memory of the Van Meters for their generous estate gift that funded renovation of Thiebaud Theatre at LCC. William was a 1929 graduate of the college and Allene taught romance languages at the college from 1929 to 1935. Previous Alumni who have received this award include; Josh Whetzel in 2018, John Kelley in 2017, Bonnie Houk in 2016, Melissa Morris in 2015, Kevin A Moore in 2014, Dr. Douglas A. Gardenhire in 2013, Gary Bandy in 2012, Dr. CJ Huff in 2011, and Dr. Jerry Bouman in 2010. For a complete list of recipients or for more information on the William and Allene Guthrie Van Meter Outstanding Alumni Award, please contact Lindi Forbes, LCC Foundation and Alumni Director, at (620) 820-1212 or by e-mail at lindif@labette.edu.