LCC Part of Higher Education Mental Health Aid Pilot Program
---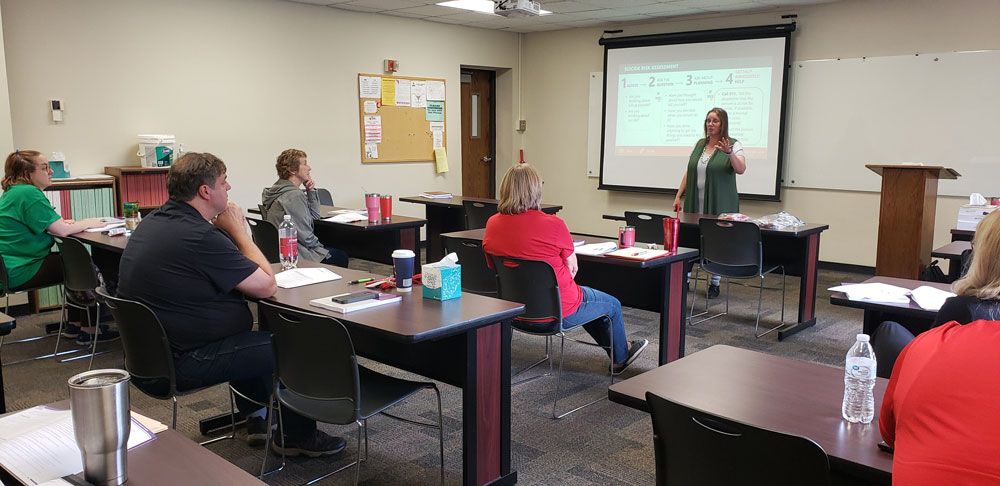 Parsons, KS – Labette Community College (LCC) had the privilege of partnering with Labette Center for Mental Health Services (LCMHS) to pilot the new version of the Higher Education Mental Health Aid program. "It was an amazing opportunity to work with LCC faculty and staff and to present the pilot module of the Mental Health First Aid (MHFA) program," said Monica Simpson, LCMHS Public Relations Specialist. "Through this collaboration, we can provide valuable feedback and be a part of this program that is being used nationwide." The Higher Education curriculum has now completed all the steps needed to become available to the entire instructor population and can be utilized for trainings throughout the country.
 "The collaboration with Labette Center for Mental Health Services has helped train over 65% of LCC personnel," stated Janice Every, LCC Human Resources Director. "I am pleased with the commitment made by our faculty and staff to be trained with this valuable information. It shows to what extent they value the wellbeing of students and any others they may encounter."
In the Fall of 2016, the two agencies started working together to provide Mental Health First Aid to nursing students as they go through the mental health section of their studies. Prior to 2016, LCMHS presented information about the MHFA course to staff during an in-service session. Staff members attended trainings offered at the Labette Center and on campus.
The MHFA course is designed to teach individuals how to identify, understand, and respond to signs of mental illnesses and substance-use disorders. The course is evidence-based and follows fidelity standards. There have been peer-reviewed studies conducted around the world, and evidence shows the program is effective. It has an advisor group that is composed of respected mental health research experts from across the country that guide and assist MHFA USA with ongoing research and future opportunities for the program.
To learn more about the Mental Health First Aid course offered, contact Monica at 620-421-3770 or email her at monica@lcmhs.com.