Labette Community College Plans to Celebrate Black History Month
---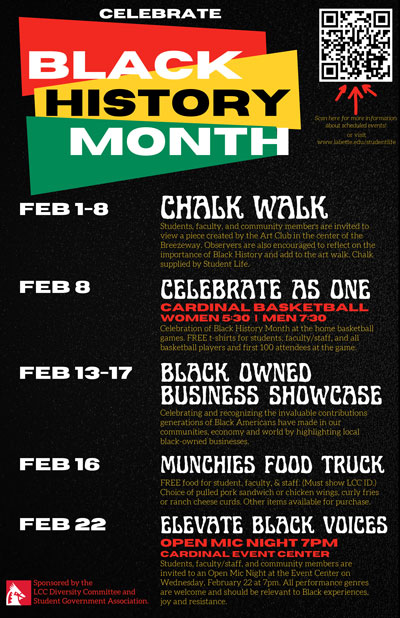 The Labette Community College (LCC) Diversity Committee commemorates Black History Month in February 2023, honoring African American expression and culture with a comprehensive list of educational and exciting opportunities for the students, faculty, staff, and the Parsons community to take part in.
The sustainable theme for this year's Black History Month is "Celebrate as One." The concept was created to re-ignite awareness, appreciation, passion, and commitment to Black History Month for all people, but especially those whose ancestors are from African Diaspora. This year's theme pays tribute to those who have enriched American life with their invaluable contributions to our local Parsons and Southeast Kansas communities.
The LCC Diversity Committee and Student Life offices planned events for this month's celebration.
"The Black community of Parsons, Kansas, is an integral and vital part of our community," says Scotty Zollars, Diversity Chair and Director of Library Services. "Their history is interwoven into not only some of our good times, but also some of our darkest moments. The matriarchs and patriarchs of our local Black community have produced amazing people in all fields of life that have enriched the world, even beyond Parsons. Labette Community College is honored to celebrate this thriving community."
For over 100 years, Black History Month has provided an opportunity to celebrate and reflect on the contributions of Black Americans to our state, our nation, and the world. This month, Parsons and surrounding communities are welcome to take part in celebrations and educational events on the LCC campus.
The Chalk Walk will kick off the month's celebration Wednesday, February 1 through February 8, 2023, on campus. The LCC Art Club, under the direction of Professor Heidi Schaff, will create a chalk mural based on the work of artist Jacob Lawrence, an American painter known for his portrayal of African American historical subjects and contemporary life. This mural will be presented on the main campus, near the breezeway between the Student Success Center and Student Union. LCC students, faculty, staff, and local community members are encouraged to reflect on the importance of Black History Month and add to the walk of art with chalk. This may be portrayed in the form of an image, a word, a quote, etc. Chalk can be picked up in the Student Life office located in the Student Union Building.
Celebrate As One will take place on Wednesday, February 8 at the Zetmeir Family Athletic Complex starting at 5:30 pm. The LCC Women and Men's Basketball teams, and the LCC Spirit Squad will wear special warm up shirts in honor of Black History month. These shirts will be worn during warmups and on the bench by both LCC and the visiting Allen Co. teams. The front of this shirt reads "Celebrate Black History." Additional shirts will be handed out to the first 100 in attendance at the game. Local Black owned business owners will be highlighted at halftime of each game.
The Diversity co.op will celebrate and recognize the invaluable contributions generations of Black Americans have made to our Parsons community, economy, and world by highlighting local Black-owned businesses. The week of February 13-17, LCC social media channels will feature pictures of these community leaders, highlight their businesses, and share how they can be contacted. The community is encouraged to support these local establishments by sharing social media posts and shopping at their business.
Tana Johnson will be the guest host for the Elevate Black Voices, Open Mic Night, to be held at the Cardinal Event Center on Wednesday, February 22, at 7:00 pm.  LCC students, faculty, staff and Parsons community, and all performance-based genres are welcome; original music or covers, poetry, storytelling, and spoken word; skits or monologues. For this event, we specifically center Black experiences, joy, and resistance.  Performances should be relevant to these themes. Follow the Labette Community College and Diversity Co.op social media channels to keep up on the latest college news and events.