LCC Nursing Department Receives Smith's Original Artwork
---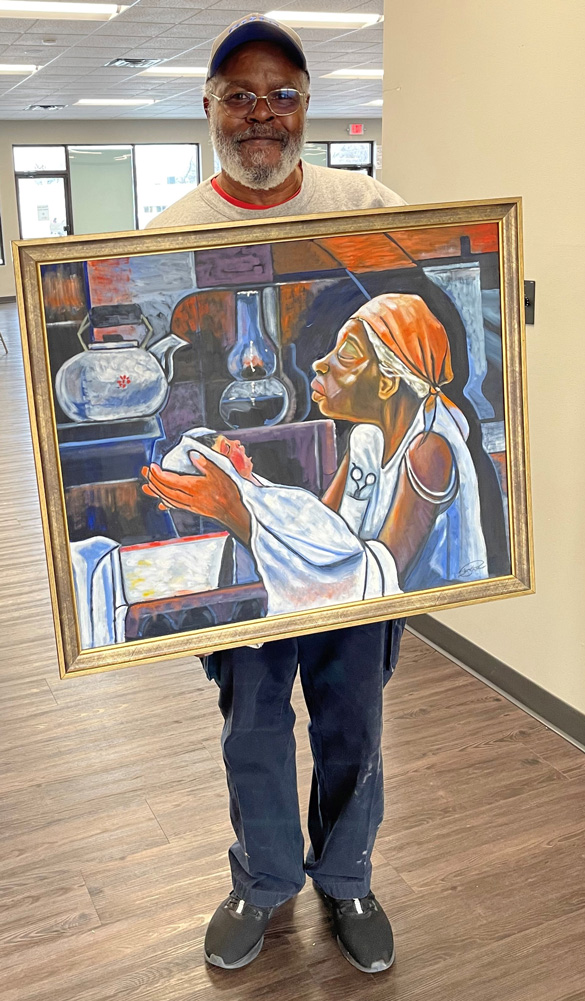 Labette Community College (LCC) is delighted to receive another art piece from Aaron "Skip" Smith.  He recently gave an original oil painting entitled "The Old Midwife" to the college. It will be displayed on the nursing floor of the Zetmeir Health Science Building. This piece is a companion piece to one Smith had previously donated titled "Midwife ll."
Smith is a seasoned artist and steadfast supporter of LCC. To honor the health science facility's 2014 completion, Smith donated the large original collage featuring Sonny and Sophia Zetmeir that hangs prominently in the lobby's open stairwell. In 2019, he donated two stunning pieces of artwork called "Hydrangeas and Hat" and "Sunflowers and Stethoscope".
"LCC is so grateful for the generosity of Skip and we are proud to display his paintings," stated Lindi Forbes, LCC's Foundation and Alumni Association Director. "They are all beautiful pieces that enhance the aesthetics of the Zetmeir building."
Smith grew up in Parsons, Kansas, attended the Fredrick Douglas School, and graduated from Parsons High School. He served in the Navy and, in 1972 he obtained his Associate of Arts Degree from Labette Community College. He received a Bachelor of Fine Arts in 1974 and a Master of Science Degree in Graphic Illustration in 1975 from Pittsburg State University. Smith was named a 2009 LCC Distinguished Alumni Recipient, and he currently serves on LCC's Foundation and Alumni Association Board of Directors. You can visit Smith's website to discover more about him - http://www.aaronskipsmith.com.