Cochran Named Van Meter Award Recipient
---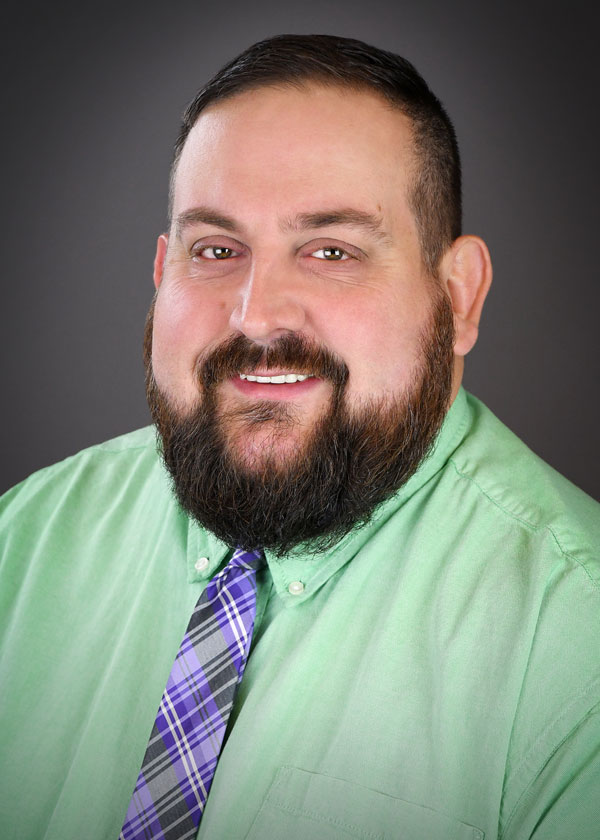 Parsons, KS – The Labette Community College (LCC) Alumni Association proudly announces that Benjamin J. Cochran, of Altamont, has been named the 23rd Annual William & Allene Guthrie Van Meter Outstanding Alumni Achievement Award recipient. This prestigious award was created to honor graduates with significant professional and community service achievements. Cochran is a board-certified family nurse practitioner for Labette Health and is well-known for his outstanding community service activities.
He earned his associate in applied science degree in nursing at LCC in 2006. Next, he graduated with honors from Wichita State University in 2009 with his bachelor's degree in nursing. He then continued coursework at Pittsburg State University, earning his master's degree in nursing in 2013 and his Doctor of Nursing Practice in 2016. Cochran's additional credentials include the Department of Transportation Medical Examiner Certification.
In addition to serving patients at his Family Practice Clinic in Altamont, he serves as the Labette County Deputy Coroner and healthcare provider for the Labette County Jail.
Cochran also has been active as a nurse educator. Since 2015, he has been a preceptor for nurse practitioner students at multiple universities, providing clinical experience in express care and family practice settings. He has also served as an adjunct nursing instructor for LCC. Additionally, he has taught certification courses in trauma nursing, basic life support, CPR, and hazardous material operations.
In 2018, Cochran launched "Just Some Podcast for Nurse Practitioners." He created a podcast for nurse practitioners and physician assistants to discuss relevant healthcare topics. He co-hosts the weekly show, which has amassed downloads in 50 states, 57 countries, and all seven continents. It has become a weekly syndicated radio show on Helium Radio Network during the last five years. It is also available on the iHeart Radio app and routinely ranks in the US's Top 100 Medical podcasts on Apple iTunes. In 2020, the show received the Podcast of the Year Award from the NP Student Magazine.
Cochran has been a vital part of Labette Community College through the years as a student and as a supportive alumnus. While in nursing school at LCC, he served as the Vice President of his nursing class and as the Vice President of the Executive Counsel of Nursing Students. He was also recognized as a Top 30 Cardinal. After graduating, he continued his service to the college in various ways. He has been a member of the LCC Nursing Advisory Board since 2012 and a member of the LCC Foundation and Alumni Association Board since 2020. Cochran has also continually supported the annual LCC Auction for Scholarships and has volunteered to provide free physicals to LCC student-athletes.
Cochran is very involved in his community and strongly believes in giving back. This is demonstrated in many ways. He and his wife, Audra, have been the coordinators for Labette County Toys for Tots since 2013. Last year, under their leadership, the local program distributed 1,839 toys to 623 underprivileged children. He has also been a Board Member for the Curious Minds Discovery Zone children's museum. He has been serving as the President of that board since 2016. Since 2014, he has been the sideline healthcare provider for the Labette County High School football team.
In 2015, he was honored with the Labette County Care and Compassion Award; in 2018, he was presented with the Parsons Chamber of Commerce Volunteer of the Year Award. In 2021, he was awarded the NP State Award for Excellence for Kansas from the American Association of Nurse Practitioners, a prestigious award given to one nurse practitioner in each state yearly.  Also, in 2021, he and his wife were awarded Citizen of the Year by the Altamont Lions Club.
He shares his technological expertise by serving as the videographer and producer of live broadcasts for his church, Christ's Church of Labette County. In 2018, he was elected to the Altamont City Council. He has served as President of the council too.
The Van Meter Award will be presented to Cochran at the LCC Foundation's annual Donor Appreciation Luncheon in November. The award was named in memory of the Van Meters for their generous estate gift that funded the renovation of LCC's Thiebaud Theatre. The Van Meters had strong associations with LCC. William was a 1929 graduate, and Allene taught romance languages from 1929 to 1935.
Previous alumni who have received this award include Neil Springer in 2022, Ben McKenzie in 2021, James Wesley in 2019, and Josh Whetzel in 2018. For a complete list of previous honorees or more information on the Van Meter Alumni Award, please get in touch with Lindi Forbes, LCC Foundation and Alumni Executive Director, at (620)820-1212 or by email at lindif@labette.edu.