Cardinal Leadership Award
This special student recognition was made possible through the generosity and kindness of 1953 LCC student who donated funds, to create a yearly award that has to be known as the Cardinal Leadership Award. This thoughtful donor wishes to remain anonymous, but shared why he was moved by a deep desire to recognize leadership talents at LCC. In 1953, while he was a student here, he was given a Leadership Award in the form of a desk pen set by a respected faculty member. All these years later he still has that pen set on his desk. He said scholarships and other financial awards were appreciated, but fleeting. The pen set has stayed with him for decades and motivated him to be successful in life. He hopes that each year the recipients feel that same sense of pride and use this award as an inspiration to continue to do great things after LCC.
---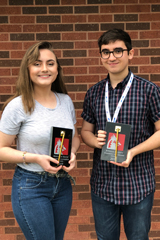 2019 Joshua Elliot & Mallorie Keltz
Mallorie and Josh truly impacted the students of Labette Community College.  Each Tuesday, their smiling faces greeted students accessing the LCC Food Pantry.  Their kindness made students feel more comfortable with visiting the pantry.  They also assisted the college in many other ways, whether through their leadership roles in SGA, PTK, or by volunteering at the LCC Foundation Auction for Scholarships. 
---
2018 Amber Helwig
Amber served in leadership roles from the beginning of her time at Labette Community College. She was a Phi Theta Kappa chapter officer and a Student Ambassador. Another impressive accomplishment is that she earned one of two spots on the All-Kansas Academic Team to represent Labette Community College.
---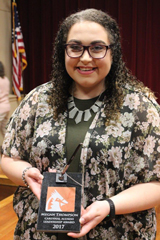 2017 Megan Thompson
Megan began serving in leadership roles when she began at Labette Community College, first as a student at the Cherokee Cente, then as a health science student on the main campus.  She was involved in multiple student organizations and served as President of more than one organization at the same time.  Along with those campus leadership roles, she was a leader at the regional level of PTK and worked three jobs before graduating from the LCC Radiography program.
---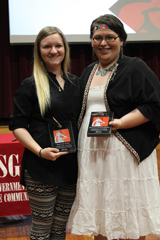 2016 Malina Kipp & Bianca Rodriquez
Malina stepped forward as a shining leader on the LCC campus with her involvement in SGA and PTK.  She was always willing to assist at events, and went above and beyond to ensure her duties were not only completed, but completed with perfection. She also balanced being active on campus with earning two degrees from LCC - Exercise Science and Physical Therapist Assistant.
Bianca was involved in several extracurricular activities and was able to balance her commitments with being an outstanding example to her peers. Many days she was seen volunteering her time giving campus tours or helping with other LCC events.
---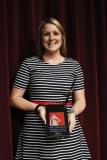 2015 Keri Thompson
Keri exceeded the term student leader while at Labette Community College. She served in multiple leadership positions while balancing nursing school.  She served as Phi Theta Kappa Chapter President, Phi Theta Kappa Kansas Region President, and Student Government Association President along with Vice President of the Kansas Association of Nursing Students.  In addition, she volunteered for numerous other organizations, including but not limited to the American Red Cross, the Ronald McDonald House, and the Southeast Kansas Humane Society.  She received the prestigious national Frank Lanza Memorial Scholarship and was named to the All-Kansas Academic Team.