LCC Art Collection
---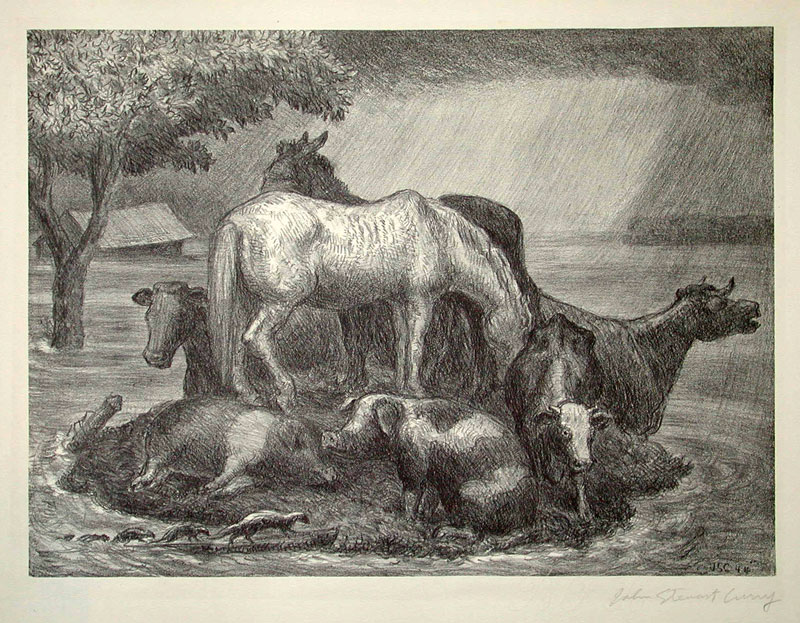 The Labette Community College Art Collection is diverse, encompassing 15th Century German woodcuts, 18th and 19th Century engravings and etchings, as well as 20th Century watercolors and oils.
Works by Birger Sandzen and Margaret Whittemore, both Kansas artists, make the collection especially noteworthy.
Although time has clouded some acquisition records, how and when the college acquired the majority of the collection is clear.
Beginning in 1926 and continuing until 1940, the Carnegie Corporation of New York instigated a multi-level program designed to support the arts - and especially art education - across the country.
In 1939, Labette Community College, then parsons Junior College, received a Carnegie teaching set, which included 200 art history books, 1,500 mounted photographs of architecture, sculpture, and painting, and small collections of original art work.
Four other schools in Kansas also received similar sets, although PJC was the only two-year college granted the materials.
Most of the original art work in the collection stems from the Carnegie Art Teaching Set. However, some pieces, such as "Harbor Scene" by E.H. Breley and two watercolors by Ken Riley were donated to the college by classes or individuals.
A special restoration project sponsored by the Humanities Division at LCC and funded by the Labette Community College Foundation, renewed public awareness of the collection and culminated in a rededication of the collection in late 1996. Today, more than sixty years since the original gift, the collection continues to serve the college and the community.
Photographs and books from the original 1939 set can be viewed on an appointment basis; a catalog prepared by the Carnegie Foundation in 1936 is available in the college library.
Viewing the Collection
The LCC Art Collection is usually up for public display during the months of June, July, and August. It is housed in the Hendershot Gallery, located on the second floor of the Main Building; 200 S. 14th.