Browns Honored as 2016 Cardinal Citee
---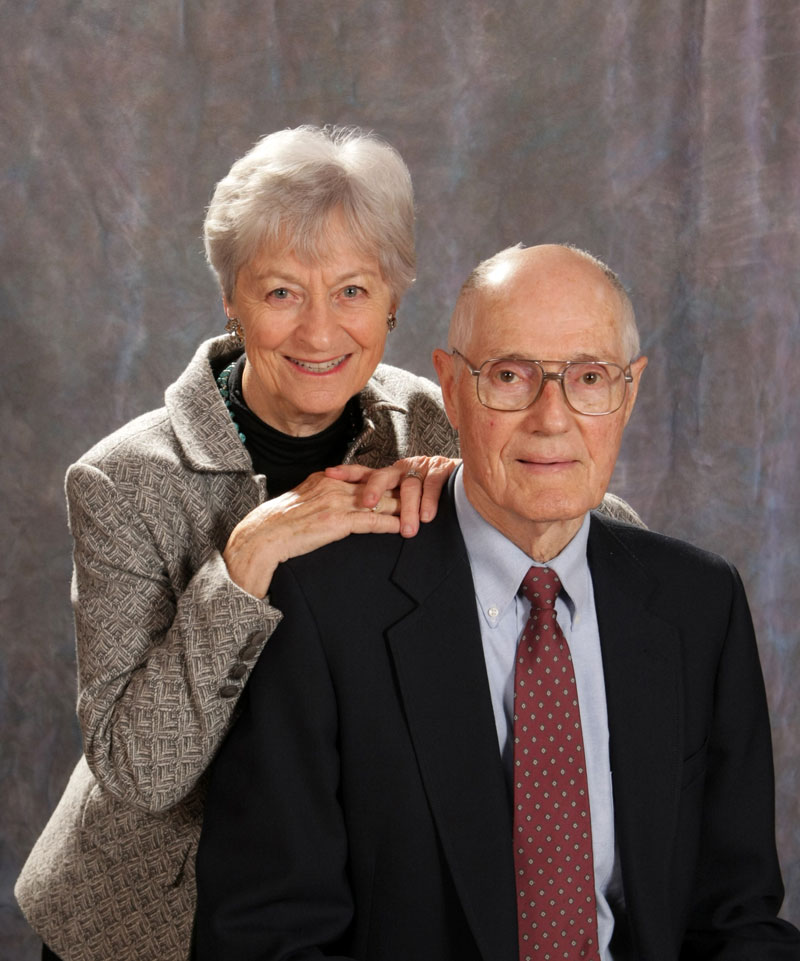 Parsons, KS- Each year Labette Community College (LCC) and the LCC Alumni Association recognize an individual or individuals for a lifetime of outstanding service to his or her community and/or to the college through the presentation of the Cardinal Citation Award. A distinguished panel of community members reviews nominations and recommends a Citee.
This year's Cardinal Citation Award recipients are Charles "Chuck" and Mary Catherine Brown of Parsons. This is the highest honor that LCC bestows to individuals for outstanding lifetime achievement. The Browns received several nominations as a couple.
Chuck and Mary Catherine graduated from Parsons High school with college credits accumulated through Parsons Junior College, now known as Labette Community College. Both of them went on to graduate from the University of Kansas. Chuck earned a Bachelor Degree in Mechanical Engineering in 1956 and Mary Catherine earned a Bachelor degree in Nursing in 1961. She furthered her higher education by also earning a Bachelor of Science Degree in Trade and Technical Education from Pittsburg State College, which is now known as Pittsburg State University, in 1972.
The Browns were second generation owners and operators of Brown Oil and Tire Company in Parsons. Chuck managed all of the day-to-day operations for over 30 years. He provided customer sales and service, managed inventory, and supervised employees. After his retirement, he took a position with the City of Parsons, where he served as Co-Director of Economic Development for two years. In that position, he helped develop countywide economic development efforts, worked to spur the creation of additional jobs, and helped bring new business and industry to Parsons.
Mary Catherine had a successful and fulfilling career as a nurse. First, she was a public health nurse employed by the Labette County Health Department. Later she became a member of the nursing staff when Labette County Medical Center was opened in Parsons. Next, she became the Coordinator of the Hospital In-service Training Grant at Parsons State Hospital. In that position, from 1963-69, she taught Cottage Life Staff Behavioral Principles. From there she was promoted to Director of In-service Training at the Parsons State Hospital. Between 1972 and 1980 she served on the Faculty as a Nurse Educator at Labette Community College. From 1980-1994, she was the Coordinator for Discharge Planning, Patient Teaching and Social Services at Labette County Medical Center. When the need for a full-time social worker became apparent, she was named the Patient Education Coordinator to fill that role. She served in that position until her retirement in 1999. During those years she volunteered to organize and conduct support groups for individuals and families learning to cope with diabetes, cancer and cardiac diseases.
The Browns support of Parsons and Labette County spans 50 years. Chuck has been a USD 503 board member, a Labette County Medical Center Trustee, a Parsons City Commissioner, the Parsons City Mayor, an Urban Renewal Board Member, a Parsons Recreation Board Member, an original member of the Jobs Inc. board, a Commercial Bank Director, and a member of the Parsons Kiwanis Club since 1960.
Chuck served on the original LCC Foundation Board and was the chair for that board for one term. He also served on the Big Hill Lake Advisory Board. He provided leadership on the planning team for US Highway 400 and for the Tolen Creek Park and Trail. Chuck was recognized for his contributions to the community by being the first recipient of the Parsons Chamber of Commerce Business Person of the Year.
Mary Catherine spent thousands of hours as volunteer board member and staff person for the Free Health Clinic organized to serve the medically underserved in the community. Her pies are a welcome contribution to the Katy Days Pie event and she dedicates volunteer hours for Operation Bright Touch and the Parsons Arboretum. Mary Catherine was a charter member of the Dolphins swim team organizing board and served as business manager and assistance coach in the 80's.
Chuck has been an active supporter of numerous community organizations and fundraising efforts such as the Boy Scouts, Parsons Industries, Labette Community College, Parsons Senior Center, and the Seaton Pavilion in Forest Park.
Together the couple served as Honorary Chairs of the LCC Foundation Pathways to the Future Capital Campaign Steering Committee. The successful multi-million dollar campaign funded scholarship endowment, deferred maintenance projects, and the construction of the new Zetmeir Health Science Building.
They are avid recreational cyclists, biking in Austria, Canada and trails throughout the United States and are active sponsors of Rails to Trails projects.
The Browns have one son, Cotter Brown and his wife Michelle of Blue Springs, MO and two daughters Nicole Gill and her husband Dan of Pittsburg, KS and Allison Brown of Moab, UT.
The Browns will be honored at the Cardinal Citation Reception prior to commencement on Friday, May 6th at 5:30 p.m. at the Commercial Bank Community Room. The public is invited to attend. For more information about the Cardinal Citee Award please contact Lindi Forbes at (620) 820-1212 or lindif@labette.edu.