Steinert Receives Faculty Award
---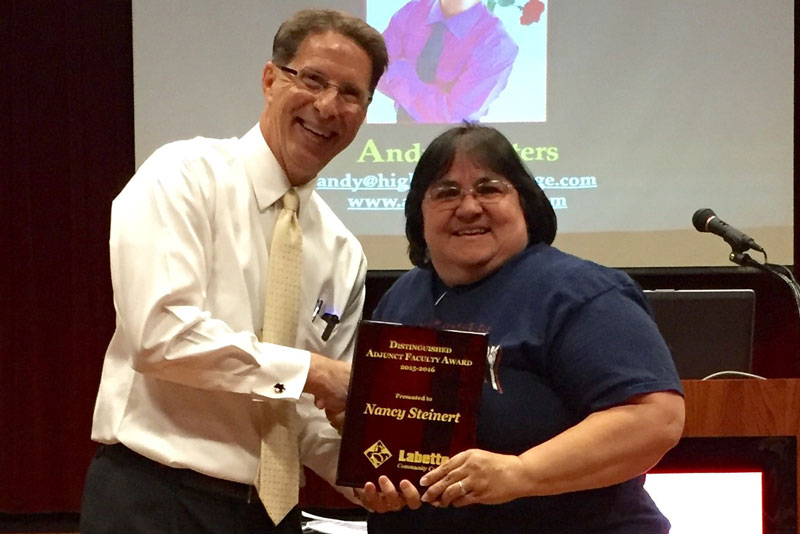 Parsons, KS- Photo: l to r: LCC Dean of Instruction Mark Watkins and Nancy Steinert, when she received the 2016 Distinguished Adjunct Faculty of the Year during in-service activities last Wednesday evening.
Parsons, KS- Labette Community College recently announced that Nancy Steinert, was named the 2016 Adjunct Faculty of the Year Award Recipient. Steinert is an adjunct instructor of mathematics as well as a GED instructor.
The Distinguished Adjunct Faculty Award at LCC was developed on the premise that faculty members who have performed in an exemplary manner should be publicly recognized and rewarded. The criteria areas for the award are: teaching effectiveness, college service, involvement with students, and community engagement. All adjunct faculty who have completed at least four years of teaching service to LCC are eligible for the award and there is a three-year interim before a recipient is eligible to be selected for the award again. Faculty may be nominated by full-time employees, adjunct faculty, and students.
Steinert meets with students, at their convenience, to gain better understanding of mathematics. She has an open door policy for her classroom and office, allowing students any assistance in math courses. Steinert, being a GED instructor, always encourages her students to pursue post-secondary education at LCC after completing their GED coursework. Steinert is also active in campus fundraising and other cultural activities.
"My goal is to bridge my students' math abilities to the expectations of the college. That way they learn without realizing it is work, and they enjoy what they are doing along the way. When they are successful on a test, I know I have taught them effectively," said Steinert.
Outside of teaching mathematics courses, Steinert, a lifelong southeast Kansas resident, enjoys family and friends at community parades, festivals, and parks. She and her husband, Terry, stay busy attending their grandchildren's extracurricular events.
Steinert was nominated by staff and students at LCC. The following are comments from former students:
"Mrs. Steinert is great at communicating and makes it a priority that students are understanding of the classwork. She has outstanding leadership skills and for makes me feel cared for as a student at LCC," said one student.
Another student said, "she deserves the award because she is always there to help students when they need it most. Mrs. Steinert even helped a students during a basketball game while watching her grandchild play ball. She always finds time to help students if they are struggling."
For more information regarding LCC's Adjunct Faculty of the Year Award or this year's recipient, Nancy Steinert, please contact Janice Every at (620) 820-1234 or by e-mail at JaniceG@Labette.edu.