LCC Gribben Endowment Fund Offers Barefoot in the Park
---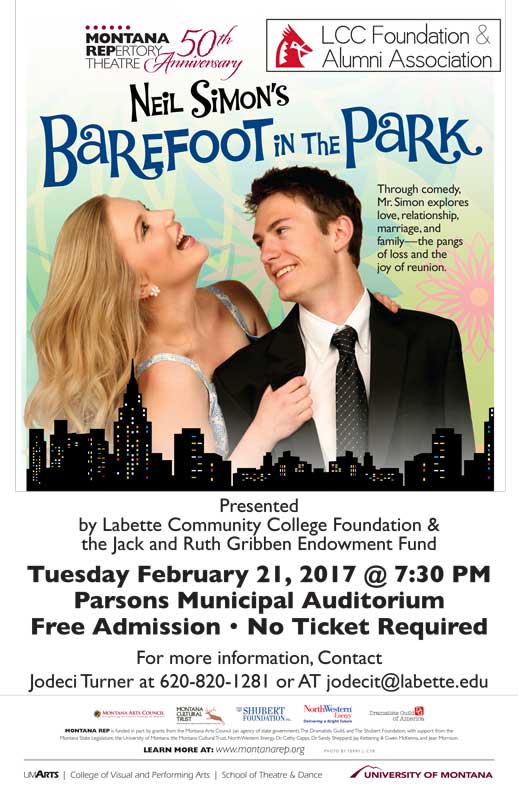 Parsons, KS- Montana Repertory Theatre and the Labette Community College Foundation present Barefoot in the Park. Coming to Parsons, KS on Tuesday, February 21, 7:30pm at Parsons Municipal Auditorium.
Neil Simon's classic romantic comedy explores love, relationship, and marriage—the pangs of loss and the joy of reunion. Newlyweds Corie and Paul Bratter set up house in their New York apartment, a dysfunctional fifth-floor walkup. Corie is playful, impetuous, and thrilled with the new adventure of married life. Paul, a conservative young attorney, keeps his emotions in check while focusing on his budding career rather than his marriage. Sparks fly as Corie and Paul's relationship is tested. Can this nascent marriage be saved? We invite you to join us for the always-incredible journey of live theatre.
This presentation is free admission with no ticket required brought to the community by the Labette Community College Foundation through the Jack & Ruth Gribben Endowment Fund and in cooperation with the Parsons Community Concert Association. Jack and Ruth Gribben are 1932 graduates of Parsons Junior College, the predecessor of Labette Community College. In 1946, they started Sun Engraving Company, switching the name to Sun Graphics with the advent of lithography. The Gribbens were active supporters of LCC for many years and upon their deaths they left a generous endowment gift to Labette Community College Foundation to fund a biennial Community Classic Series.
For more information about this show, contact Lindi Forbes, Executive Director of LCC Foundation at 620-820-1212.