PBL Earns Trip to Nationals
---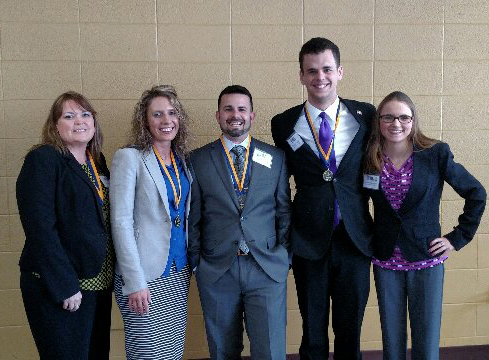 Photo: Michelle Green, of Cherokee; Bonnie Howell, and Joshua Ghering, both of Parsons; Chandler Gravett, Weir; and Lindsey Drummond, of Parsons.
Parsons, KS— Parsons, KS- The Labette Community College Phi Beta Lambda students attended the Kansas State Conference, March 3-4 at Sterling College in Sterling, Kansas. They earned spots as top finishers, securing a trip to compete at the National Leadership Conference in Anaheim, CA in June. Phi Beta Lambda is a business organization for two and four year colleges.
LCC students competed in several categories finishing in the top three to ensure their spot at the National Leadership Conference:
Lindsey Drummond:

2nd Place
Accounting Principles
Computer Applications
Josh Ghering:

1st Place
2nd Place
3rd Place
Integrated Marketing Campaign
Entrepreneurship Concepts
Business Decision Making
Future Business Executive
Organizational Behavior & Leadership
Chandler Gravett:

1st Place
2nd Place

Impromptu Speaking
Justice Administration
Michelle Green:

1st Place
3rd Place

Personal Finance
Business Communication
Business Decision Making
Client Service
Bonnie Howell:
1st Place
2nd Place
3rd Place
Integrated Marketing Campaign
Help Desk
Business Decision Making
Ben Lotterer:
2nd Place

3rd Place
Accounting Principles
Microeconomics
Retail Management

Who's Who in Kansas Phi Beta Lambda recipients were: Josh Ghering and Bonnie Howell.
"These students represented LCC very well." said Cathy Kibler, PBL advisor. "I am so proud of their accomplishments and excited to see the outcome of nationals."
Cathy Kibler, LCC instructor of Accounting and Business serves as the advisor for LCC's PBL chapter.