PTK Earns Top Honor at National Convention
---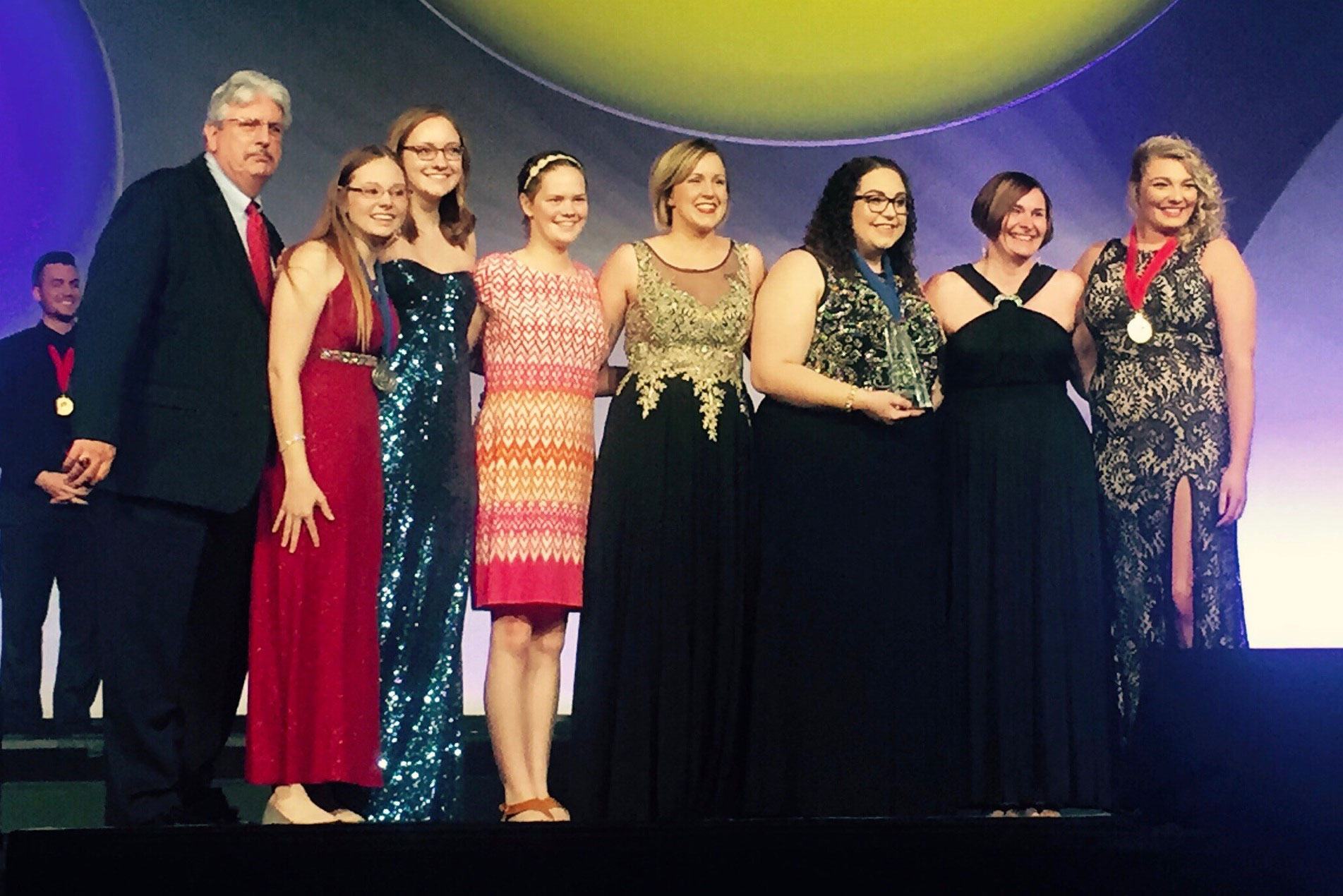 LCC President, Tau Theta PTK students, and PTK advisor earned Second Finalist-Most Distinguished Chapter at the PTK International PTK Convention in Nashville, TN.
Pictured l to r: LCC President Dr. George Knox, PTK students Abigail Dominguez, Nicole Smith, Amber Helwig, Keri Thompson, Megan Thompson, Tammy Fuentez, LCC PTK Advisor; and Sydney Pemberton, LCC PTK student and International Officer.

---
Parsons, KS-The Labette Community College Tau Theta Chapter of Phi Theta Kappa had an outstanding trip to the Phi Theta Kappa International Convention in Nashville on April 4-9. Phi Theta Kappa is the national honor society of the two year college.
The International Convention is nearly a week long convention of speakers, networking and awards. LCC earns numerous international awards each year, but most notably this year earning a top honor of being named the Second Finalist-Most Distinguished Chapter. LCC was named 3rd out of nearly 1,300 chapters internationally. This award is equivalent to an athletic team earning 3rd place at a national tournament. This is the highest honor that Tau Theta has earned.
Tau Theta member Sydney Pemberton has served as an International Officer, presiding over General Sessions for the over 3,700 attendees.
Tammy Fuentez, LCC PTK advisor, served as a facilitator for the Pre-Conference Academy and also presented an educational forum on the importance of regional officers.
PTK chapter members heard from speakers including Dr. Jennifer Arnold (Neonatologist and TV personality), Jamie Hyneman (Mythbusters), and Platon (Photographer).
The LCC chapter received multiple International awards:
Second Finalist – Most Distinguished Chapter
Distinguished Chapter Awar
Distinguished College Project Award
Distinguished Honors in Action Award
Top 100 Chapter
Abigail Dominguez - Distinguished Chapter Officer Award (one of 30 from 391 applicants)
Dr. George Knox, LCC President– Michael Bennett Lifetime Achievement Award
Distinguished Chapter Officer Team Award for Kelsie Coltrane, Abigail Dominguez, Sydney Pemberton, and Megan Thompson (one of 30 teams from 192 applicants)
Megan Thompson – Distinguished Regional Officer Team Award for her service to the Kansas/Nebraska Region this past year
Tammy Fuentez, LCC PTK advisor – Continued Excellence in Advising Award and Distinguished Regional Coordinator Award
We also received a plaque for our support of Sydney Pemberton as an International Officer
For more information about the LCC PTK Chapter, contact advisor Tammy Fuentez at tammyf@labette.edu.