LCC Employees Honored with Years of Service
---
Parsons, KS- Labette Community College honored employees with Years of Service pins during the opening in-service on Monday. These dedicated employees are examples of the central mission of the college-providing quality learning opportunities in a supportive environment for success in a changing world.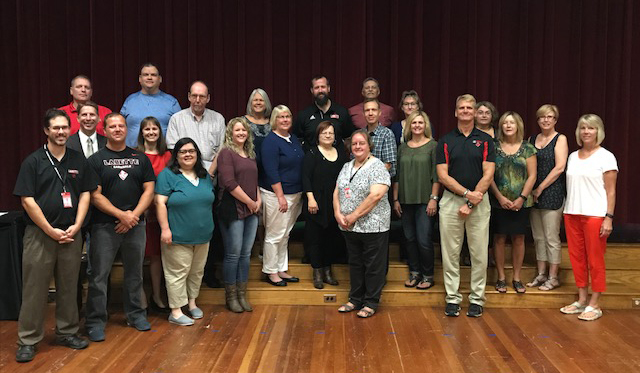 Front row, l to r: Seth Roach, Music instructor; Brian Vediz, Sonography Director; Kimi Dowling, Public Relations; Tammy Kimrey, Radiography Instructor, 5 years; Phylis Coomes, Library, 30 years; Pat Duncan, Talent Search, 10 years; Jill Coomes, Nursing Instructor, 25 years.
Middle row, l to r: Mark Watkins, President; Rebecca Roach, Student Support Services; Mike Brotherton, Talent Search, 5 years; Cindy Dyson, Registrar; Deborah Newby, English Instructor; Robert Bartelli, Economics Instructor; Julie Page, Nursing Instructor, 10 years; Leanna Doherty, VP Finance & Operations, Kathy Johnston, Enrollment Mgmt, 25 years.
Back row, l to r: Kevin Doherty, Facilities; Alan Pommier, Math Instructor; Trudy Hill, Workforce Education, 5 years; Ben McKenzie, Exercise Science Instructor; Tom Duran, Communication Instructor; Connie Nance, Accounts Payable, 15 years; Tonya Evans, Print Shop, 20 years.
---
Other LCC employees receiving recognition for years of service not pictured are:
5 years:Robert Harris, Travis King, Diane Thompson, and Jonathan Wilhoft
25 years: David Beach
---
Adjunct instructors not pictured:
5 years: Joan Allen, Michelle Bernd, Stephanie Best, Pamela Blackburn, Stephanie Blackburn, Leslie Bowman, Deborah Burke, Cathy Campbell, Rhonda Etter, Lisa Farris, Amanda Fields, Debra Gatton, Bobby Handshey, Cindy Miller, Gina Miller, Rebecca Perez, Ron Patchin, Rebecca Roach, Bruce Rea, Robert Walker, Morgan Webb, Angela Yarbrough, Scotty Zollars
10 years: Lacey Finley, Seth Roach
15 years: Thomas Robson
20 years: Linda Bennett, Lucille McCune, Scott Nelson
35 years: Sara Davis