Horning Named Speaker for Gribben English Lecture Series
---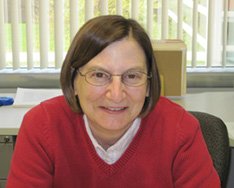 Parsons, KS- Alice Horning is a professor of Writing and Rhetoric at Oakland University, where she holds a joint appointment in Linguistics. She has been chosen as the speaker for the 34th Annual Jack & Ruth Gribben English Lecture Series at Labette Community College. A committee of LCC English faculty arrange a speaker and help host the lecture series in which 30-40 English faculty from area schools, community colleges and universities attend. 
Horning's research over her entire career has focused on the intersection of reading and writing, focusing lately on the increasing evidence of students' reading difficulties and how to address them in writing courses and across the disciplines. 
Her work has appeared in the major professional journals and in books published by Parlor Press and Hampton Press.  Her most recent books include Reading, Writing, and Digitizing:  Understanding Literacy in the Electronic Age published in 2012 by Cambridge Scholars Publishing and Reconnecting Reading and Writing co-edited with Beth Kraemer, published in 2013 by the WAC Clearinghouse and Parlor Press.  Her forthcoming books are What is College Reading? co-edited with Cynthia Haller and Deborah-Lee Gollnitz, to be published by the WAC Clearinghouse,  and Literacy Then and Now, to be published by Peter Lang.
This free professional development will be held on Friday October 6, 2017, 9 a.m. in the LCC Rees H. Hughes Arts & Humanities Building Room 224. To register, contact Jodeci Turner at 620-820-1281.