Coomes Honored with Presidential Award from KS Library Association
---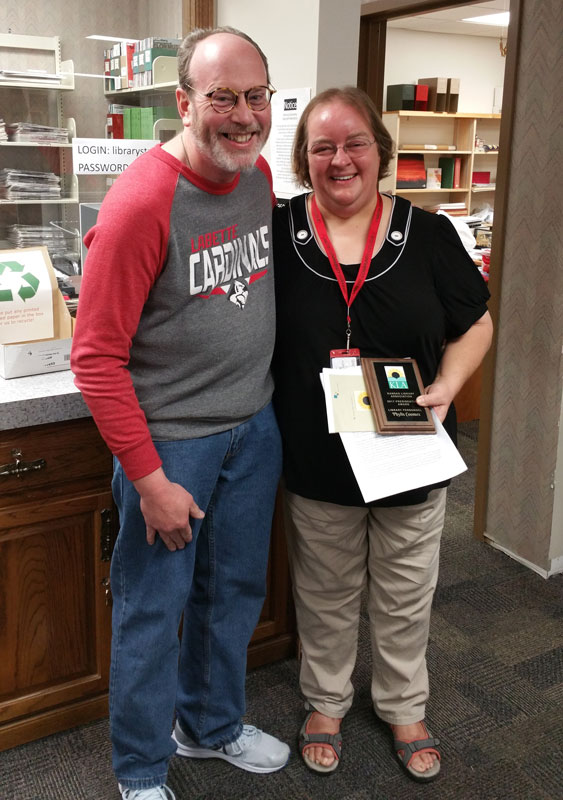 Parsons, KS- Labette Community College library assistant, Phylis Coomes, was awarded the Kansas Library Association Presidential Award for Library Personnel from the Kansas Library Association. Coomes received the award during the annual Kansas Library Association convention on October 26.
Fellow librarians, Kindra Holland, of the Erie City Public Library and Scott Zollars, Director of the Labette Community College library, nominated Coomes for the prestigious award. According to the Kansas Library Association website, the Library Personnel Award is to be given to a Kansas Library Association member, either individual or institution, who has made notable contributions to the library profession, furthered significant development of libraries in Kansas, or performed exemplary service for an extended period of time. In case of retired individuals, the nominee may be a past member of the Kansas Library Association.
Coomes, an Erie, KS resident, began working at LCC September 16, 1985 as a part-time library assistant. She now serves as a full-time library assistant. "Phylis brings extensive knowledge about all facets of a community college library. She is a true professional in her field," said Scott Zollars, Director of the LCC Library.
"Phylis is a valued part of the LCC Library team. Her focus, as is the focus of the entire staff, is what is best for the LCC students and employees."
For more information about the LCC library, visit www.labette.edu/library.