LCC PTK Earns Top Honors at International Convention
---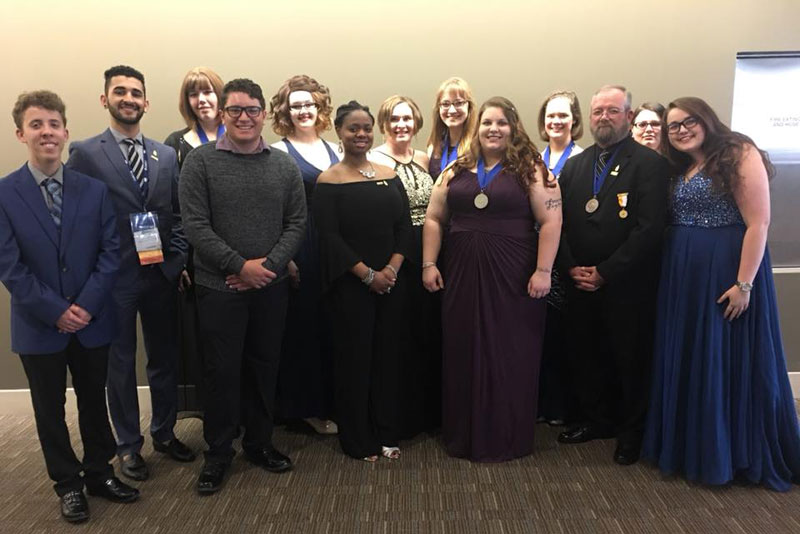 Photo l to r: Newton Grady, Issac Younis, Henrike Kattoll, Andrew Fuentez, Sarah Rightmer, Davida Fontelroy, Tammy Fuentez, Nicole Smith, Stephanie Bush, Amber Helwig, Robert Armstrong, Korenne Bryant, BryAnna White
---
Parsons, KS- The Tau Theta Chapter of Phi Theta Kappa at Labette Community College attended Catalyst 2018 last week in Kansas City to celebrate the 100th birthday of PTK. The national honor society of the two year college international convention was themed of  100th year celebration and attendees heard from speakers like; Hamilton's Daveed Diggs, futurist Chris Riddell, and authors Susan Cain and Amy Cuddy.  
The Tau Theta Chapter earned numerous top honors during the international convention:
College Project Award – Top 50 chapters who completed a project to support the college. This award is prestigious as there are 1,300 Phi Theta Kappa chapters worldwide.
 Distinguished Chapter Officer Team – Top 30 chapter officer teams were recognized. This team included Robert Armstrong, Stephanie Bush, Amber Helwig, Henrike Kattoll, and Nicole Smith.
REACH Award – The Tau Theta Chapter had at least a 15% membership acceptance rate in 2017.
Five Star Chapter – LCC's chapter has earned this recognition year for 16 years.
In addition, Nicole Smith and LCC PTK Advisor, Tammy Fuentez, were a part of the regional team that received a Five Star Region Award and a Regional Service Hallmark Award. 
"The LCC chapter earned the Regional Service Hallmark award for our St. Jude's Project, which 15 attendees this past year were from Labette Community College so our chapter played a critical role in this project," said Fuentez. 
For more information about the Tau Theta Chapter of Phi Theta Kappa, go to www.labette.edu or email tammyf@labette.edu.