Baty Awarded LCC Distinguished Adjunct Faculty
---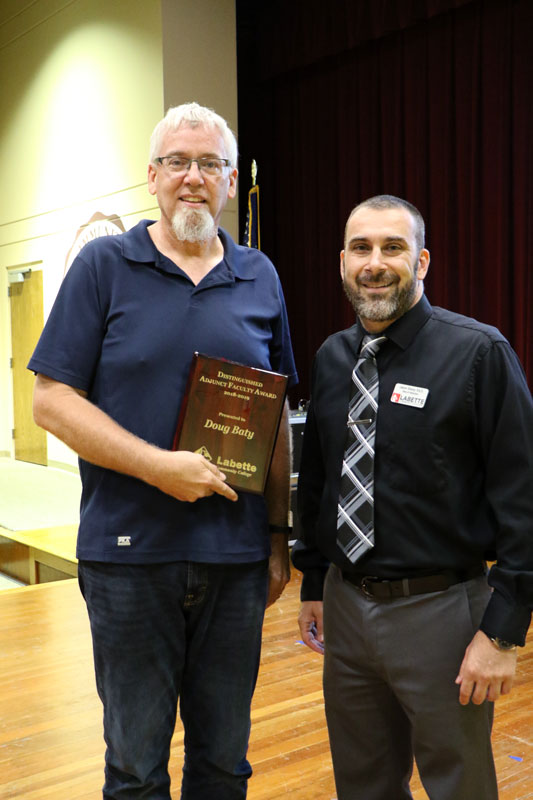 Parsons, KS- Parsons, KS- Labette Community College recently announced that Doug Baty, was named the 2019 Adjunct Faculty of the Year Award Recipient. Baty is an adjunct instructor of philosophy. In addition, Baty also teaches Basic Ethics, Comparative World Religions and New Testament Survey.
The Distinguished Adjunct Faculty Award at LCC was developed on the premise that faculty members who have performed in an exemplary manner should be publicly recognized and rewarded. The criteria areas for the award are: teaching effectiveness, college service, involvement with students, and community engagement. All adjunct faculty who have completed at least four years of teaching service to LCC are eligible for the award and there is a three-year interim before a recipient is eligible to be selected for the award again. Faculty may be nominated by full-time employees, adjunct faculty, and students.
In support of LCC's mission statement and high quality of instruction, Baty has developed and employed new and unique teaching methods, upgraded teaching content and style, and focused on student learning through educational philosophy, and inter-disciplinary teaching. Although Baty teaches via video from the LCC Cherokee Center in Pittsburg, he regularly travels to other sites to meet with students. 
Baty enjoys encouraging students outside of the classroom setting by attending LCC athletic events and other activities that his students take part in. He also demonstrates effective leadership within the community by being involved with the Chamber of Commerce, the Parsons Lions Club, his local church and working on a project to provide better housing for community members. "Our organization helps those in need of updating their houses by painting and adding wheelchair ramps and porches," Baty said. 
LCC students speak highly of his personal and positive approach to teaching. "Instructor Baty is my favorite instructor for an online course. He frequently sends feedback on my work so that I may improve," said a student. "Even when his mother passed away during the semester, he still came to class with a positive and helpful attitude and recorded his lecture for us while he was gone."
"His passion and knowledge is so clear when he is lecturing. I would take another class from him if I could. He tried to make this class interesting by sharing stories and jokes but was always clear in expectations of the class," said another student. "He changed my whole perspective after taking his class."
For more information about the Adjunct Faculty of the Year award, contact Janice Every at janicec@labette.edu.