LCC Employees Honored with Years of Service
---
Parsons, KS- Labette Community College honored employees with Years of Service pins during the opening in-service last week. These dedicated employees are examples of the central mission of the college-providing quality learning opportunities in a supportive environment for success in a changing world.
Front row, l to r: Ross Harper, Leigh Ann Martin, Teri Pearce, Cheryl Smith; 5 years; Margaret Doherty, Tonya Bell; 10 years; Gale Brown, Megan O'Brien, Ashley Moore, Megan Fugate, Lori Ford; 15 years; Dr. Delyna Bohnenblust, Janice Every; 30 years.
Back row, l to r: Dr. Daudi Langet, Brittany Haley, Alex Coplan; 5 years; Aaron Keal, Jody Burzinski; 20 years; Phil Jack, 35 years.
Adjunct Instructors Recognized: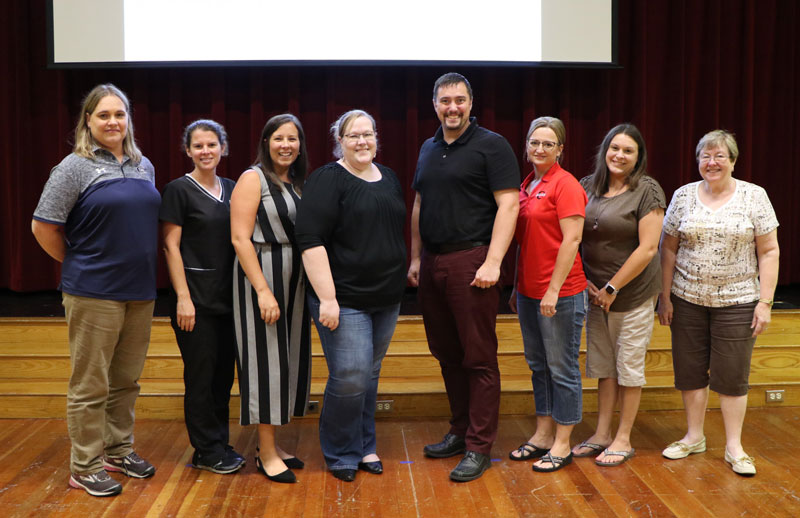 Left to right: Lori Simmons, Melissa Carson; 5 years; Kylie Lucas, Amy Hartzell, Luke Henke, Lynette Goddard, Hannah Wommack, 10 years; Gail Bishir, 35 years.
Adjunct instructors not pictured: Jaime Burke, Carrie Case, Ross Harper, Victoria Schneider, Megan Smith, Dixie Surrett, Karla Washington; 5 years; Cheryl Brees, Amy Higgins, Jeremi Jacquinot, John Mack, Casey Mayfield, Stephanie Morris, Jody Valley; 10 years; Travis Modesitt; 20 years.