Crossland Pledges Support of LCC Capital Campaign
---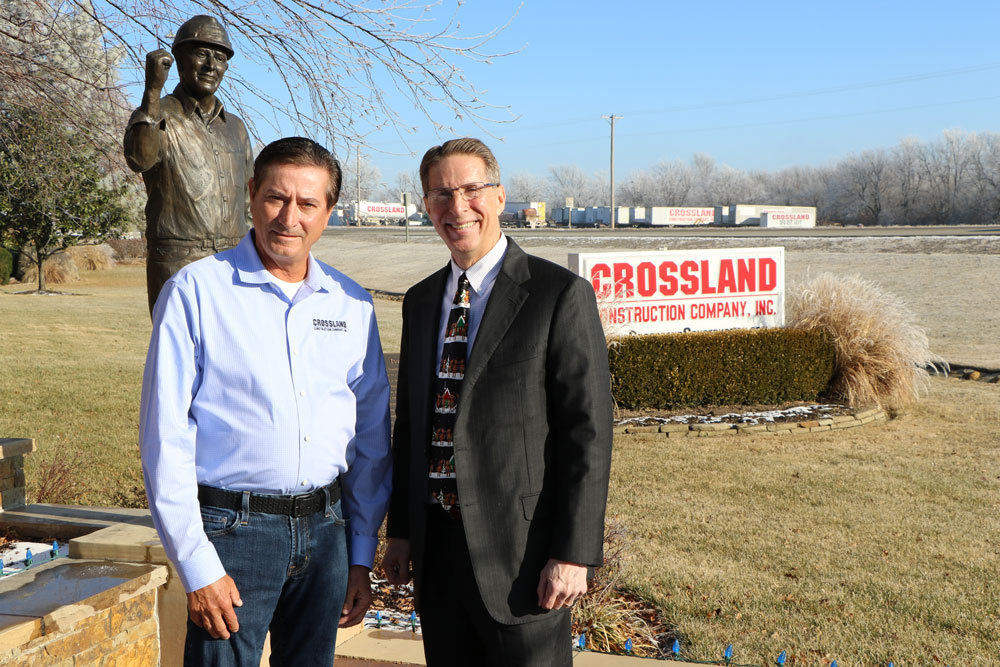 Photo: Curt Crossland and LCC President, Dr. Mark Watkins join for a photo during the Crossland Construction Company, Inc. gift announcement to the LCC Pathways to the Future Capital Campaign.
---
Parsons, KS- Crossland Construction Company, Inc. has pledged $200,000 to support the next phase of Labette Community College's Pathways to the Future Capital Campaign. This gift will help the college renovate and expand the athletic facilities to meet the needs of students and serve the community better.
What started as one man in the family garage in 1977, has now grown to over 1,500 employees and ranks as one of the largest construction firms in the nation. Ivan Crossland Sr. built the company on his optimism, integrity, work ethic, and grit. The business continues to serve under the belief that if you dream big, remain humble, and work hard, great things are possible. Crossland is proud to be a part of building the communities where they live, work, and play.
Crossland has offices all across the Midwest, with the headquarters in Columbus, KS and other offices in Tulsa and Oklahoma City, OK; Rogers, AR; Wichita, KS; Kansas City and Springfield, MO; Denver, CO; and Prosper, TX. They have also worked in over 40 states. One of the biggest contributions to their growth through the years is their ability to set and reach goals. They are able to reach these goals by having the right talent in the organization. For this reason, they started a scholarship program over 30 years ago that invests resources into their internship program. Today they recruit at 11 different colleges in the Midwest and have over 165 interns each summer from these schools. 
Another contributor to their growth is their intentionality with every new office they open. They ensure that the leaders in each office are individuals with a passion to serve their communities. They also encourage all of their employees to find something they are passionate about and get involved. They do this through their Crossland Cares program – which allows employees to share those passions with the company and get others involved.
Curt Crossland is the President of Crossland Construction's Midwest Region. "We believe that education is an important part of a community's ability to innovate and move forward," says Curt. Numerous employees have studied at LCC over the years. "LCC does an amazing job of preparing students for their futures and equipping them with the tools they need to continue shaping our communities. We will see the benefits to our communities for years to come as students graduate and enter the work force and begin to leave the legacy that LCC has begun in them." 
The Crossland Family has lived in Southeast Kansas their entire lives. "Being a part of this community has been a blessing to us, and we do our best to give back. LCC is an important institution to our community, and we are honored be a part of the mission," say Curt. "Getting to be a part of the legacy LCC leaves is a privilege for our family. It is an honor to be a part of this partnership, getting to know the people, and having the opportunity to give of our time and money."
"LCC is honored that Crossland Construction supports the mission of our college and our students. This gift will help LCC reach our goal of expanding our athletic complex, deepening our mission for our students and community," said LCC President Dr. Mark Watkins. 
Crossland Construction is dedicated to building for and volunteering with agencies and organizations to benefit their communities. They take a deep sense of pride and ownership in helping their neighbors meet the needs of their clients and causes.
Each year, their employees donate thousands of volunteer hours to benefit those around them because they know actions speak louder than words. Whether on the jobsite, the ballfield, or the board of a local non-profit, they to embody their core values - trust, responsibility, integrity, and passion. Last year in the four states alone, they gave to over 50 non-profit organizations. 
Private support for LCC's capital campaign can come through outright gifts of cash, bequests, life insurance policies, gifts of real estate, and other giving mechanisms. Individuals or businesses can choose to give in a variety of ways, even to spread out payments up to five years. This makes the giving capacity larger and more feasible for more people. 
For more information on how to give to the Pathways capital campaign, visit http://www.labette.edu/foundation or contact Executive Director, Lindi Forbes, at 620-820-1212 or lindif@labette.edu. Gifts may also be mailed to: 200 South 14th, Parsons, KS 67357.