Concurrent/Dual Credit
---
Concurrent/Dual Credit Enrollment Form (Use this form for ALL courses)
Jump Start Scholarship award is now automatic. When high school students submit the Concurrent/Dual Credit Form, they will be coded as "high school" in the system and the scholarship will automatically be applied.

---
Concurrent Credit courses are college courses taught at the high school by qualified high school instructors in which the students receive both high school and college credit. Students are enrolled by LCC personnel who come to the school, or by high school counselors or teachers. Students are taught using the same materials as the on campus college courses and use the same textbook, unless the high school textbook has been approved for use by the college. The same outcomes and competencies must be met by concurrent students and regular traditional college students. Concurrent credit courses follow the high school schedule.
Dual Credit courses are regular college courses taken by a high school student, taught by a regular LCC instructor (rather than a high school instructor). These classes may be on any campus or online and are not special classes for high school students only. Dual Credit courses follow the LCC schedule.
High school students are not eligible for textbook scholarships. Some high schools opt to purchase the current LCC textbooks for concurrent students-check with your school! Students taking Dual Credit courses (on LCC campuses or online) are responsible for purchasing their textbooks.
---
Spring 2019 online courses for high school students only
| | | |
| --- | --- | --- |
| American Government | THOMURE, KEVIN | POLS 105 00015HW |
| Medical Terminology | ELLIOTT, MIA | OTEC 124 00015HW |
| General Psychology | CLAY, SALLY | PSYC 101 000015HW |
| Developmental Psychology | CLAY, SALLY | PSYC 201 000015HW |
| Music Appreciation | MORGAN, LOUIS | MUSI 101 00015HW |
| Fundamentals of Speech | FINLEY, LACEY | COMM 101 00015HW |
| English Comp II | BATY, RANDEE | ENGL 102 00015HW |
| American History Since 1877 | MOSS, DIANA | HIST 102 00015HW |
| Pre-Professional Lab | DAVIS, JAMIE | EDUC 134 00015HW |
| Intro to Teaching | DAVIS, JAMIE | EDUC 140 00015HW |
---
Important Dates for Spring 2019
Concurrent
Dual Credit
Last date to enroll:
02/01/2019
01/18/2019
(non-refundable)
Last date to drop for a refund:
02/01/2019
01/25/2019
Certification Rosters due:
02/06/2019
(by noon)
01/31/2019
(by noon)
Last date to withdraw from a course:
04/26/2019
04/26/2019
Grades for concurrent and dual credit courses are due by noon on 05/13/2019.
---
Concurrent Course Costs
| | | |
| --- | --- | --- |
| Tuition: | $54.00 | per credit hour |
| Incidental Fees: | $48.00 | per credit hour |
| | $102.00 | per credit hour without Jumpstart |
| Material fees: | TBD | (some courses may have these additional fees) |
| Online course fee: | | Waived for high school students—fall and spring semesters only (not summer). |
With JumpStart Scholarship: (covers tuition, but not fees)
1 credit hour course: $48.00
3 credit hour course: $144.00
5 credit hour course: $240.00
All students are responsible for purchasing textbooks unless purchased by their district—verify in advance.
High school students are not eligible for federal Financial Aid or Loan
High school students are not eligible for textbook scholarships

---
High School Success Stories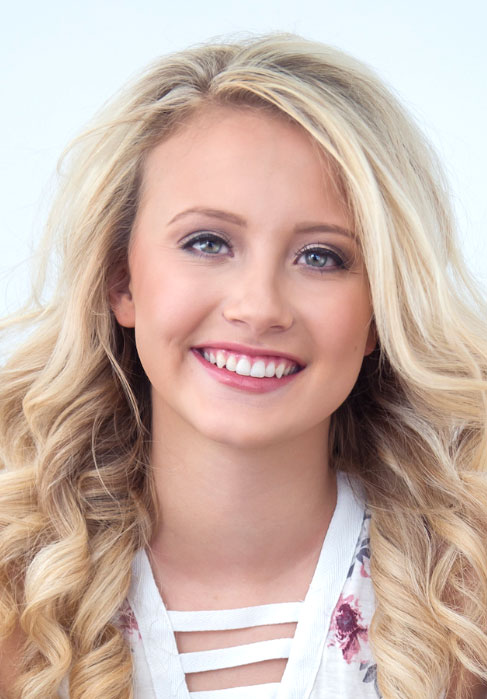 Burzinski Earns High School and College Diploma Simultaneously
Parsons, KS- Labette County High School senior, Skylar Burzinski, will earn her Associate in General Studies degree from Labette Community College two days before walking across the stage for her high school graduation. Burzinski's post-secondary education academic success was achieved through concurrent, online, and on-ground day and evening classes from LCC.
Although Burzinski didn't plan to earn an associate degree during high school, she soon realized the academic advantages it would have for her future. "I didn't start out trying to earn a degree during high school. I planned to take a few classes, but then when I got serious about my college options, I realized there would be advantages to finishing my degree," she said. "Once I realized how close I was, I was just really determined to complete it".
In addition to the rigors of high school and collegiate level academics, Burzinski was involved in the LCHS dance team, volleyball, basketball, National Honor Society, and Future Farmers of America (FFA) competition teams.
The benefits of completing her associate degree early are both academic and financial. "The number one way it will help me is financially. This is two years I won't have to pay for at the University," she said. "I think it will also allow me more flexibility to take a few different program courses to decide the direction I want to go, without worrying about how long it is taking me to get through college. I have some wiggle room."
Since Burzinski will earn her Associate of General Studies in May, she will be prepared to transfer to Wichita State University (WSU) in the fall of 2018 with a possible focus of Finance/Accounting. Burzinski is the daughter of Thad and Jody Burzinski of Mound Valley.