Tuition Free Technical Programs for Current High School Students
---
Under Excel and CTE Initiatives, The State of Kansas will pay the tuition for high school students to pursue college level courses in technical fields that prepare them for high demand and high wage careers. This program is intended for high school juniors and seniors.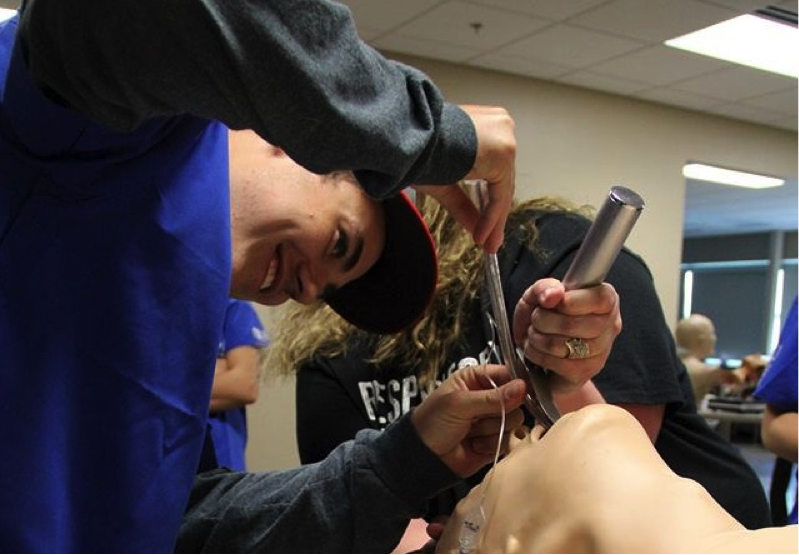 LCC Camp Med student receiving hands on intubation training
Kansas high school students have new tuition free opportunities for Career and Technical training at LCC.
Labette Community College offers several courses/programs that allow high school students to earn an industry recognized certification prior to high school graduation. Some of the tuition-free opportunities are:
Career & Technical Education courses at LCC are specifically designed to prepare students to enter the workforce in their chosen field in two years or less with highly sought after skills. Students receive hands-on training using real tools and technology specific to their field. This training often takes place directly on site at a potential employer's facility.
According to the Kansas Board of Regents, more than 64 percent of future Kansas jobs will require some level of college education. This initiative strives to address the need for a qualified and talented workforce for business and industry, in addition to promoting a strong economy.
Earning a professional certificate while in high school gives tomorrow's graduates more choices. Graduates can choose to go directly to work, continue their studies, or a do both. Many of our courses are designed to give students a solid foundation to pursue an associate, bachelor, and ultimately an advanced degree in the field of their choice.
To take advantage of this great opportunity, visit with your high school counselor or contact Nancy Newby, Concurrent/Dual Credit Coordinator, 620-820-1221 or nancyn@labette.edu