Respiratory Therapy FAQ's
---
What do Respiratory Therapists do? Watch a Video
Respiratory Therapists (RT's) care for patients who have trouble breathing; for example, from a chronic respiratory disease, such as asthma or emphysema. Their patients range from premature infants with undeveloped lungs to elderly patients who have diseased lungs. They also provide emergency care to patients suffering from heart attacks, drowning, motor vehicle accidents, or shock.
---
Pay
According to the Bureau of Labor and Statistics, the median pay is $60,280 as of September 2019.  If you choose to stay in the Southeast Kansas area, the average pay is about $45,000. 
---
Duties
Respiratory therapists typically do the following:
Interview and examine patients with breathing or cardiopulmonary disorders

Disease management for patients with cardiopulmonary disease

Consult with physicians to develop patient treatment plans

Perform complex diagnostic tests such as electrocardiograms, arterial blood gas analysis, sleep studies, and measuring lung capacity.

Treat patients, using a variety of methods, including mechanical ventilation, chest physiotherapy, and medications.

Monitor and record the progress of treatment.

Teach patients and family members how to use treatments.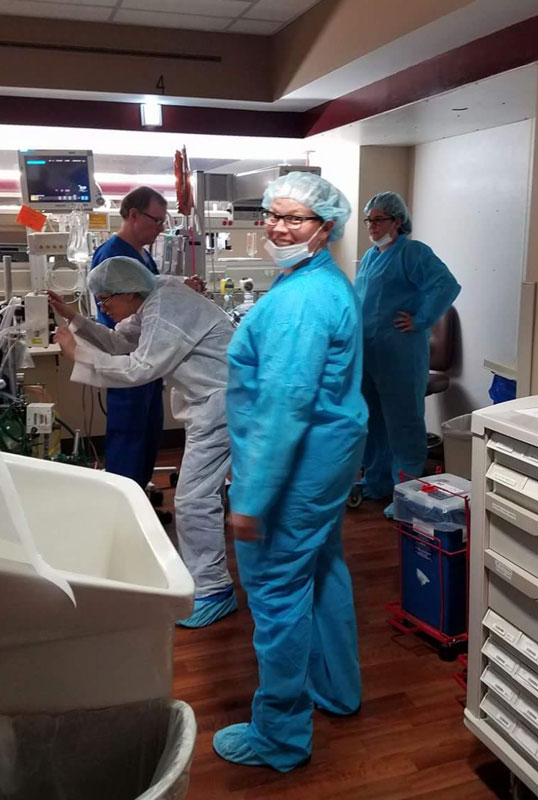 ---
Job Outlook
In 2019, the all students had a job before they even graduated.  The LCC Respiratory Therapy program is known for graduating "solid" and "professional" respiratory therapists.  As a result, our graduates have a huge benefit when looking for a job.  There are respiratory departments within the region, that are entirely made up of LCC graduates.    
Employment is expected to grow by 21% which is much faster than average, between now and 2028.  Growth in the middle-aged and elderly population will lead to an increase incidence of respiratory conditions such as emphysema, chronic bronchitis, and pneumonia, respiratory disorders that permanently damage the lungs or restrict lung function. These factors will lead to an increased demand for respiratory therapy services and treatments, mostly in hospitals and nursing homes. In addition, advances in preventing and detecting disease, improved medications, and more sophisticated treatments will increase the demand for respiratory therapists. Other conditions affecting the general populations, such as smoking, air pollution, and respiratory emergencies, will continue to create demand for respiratory therapists.