Wall Pledge to LCC Capital Campaign
---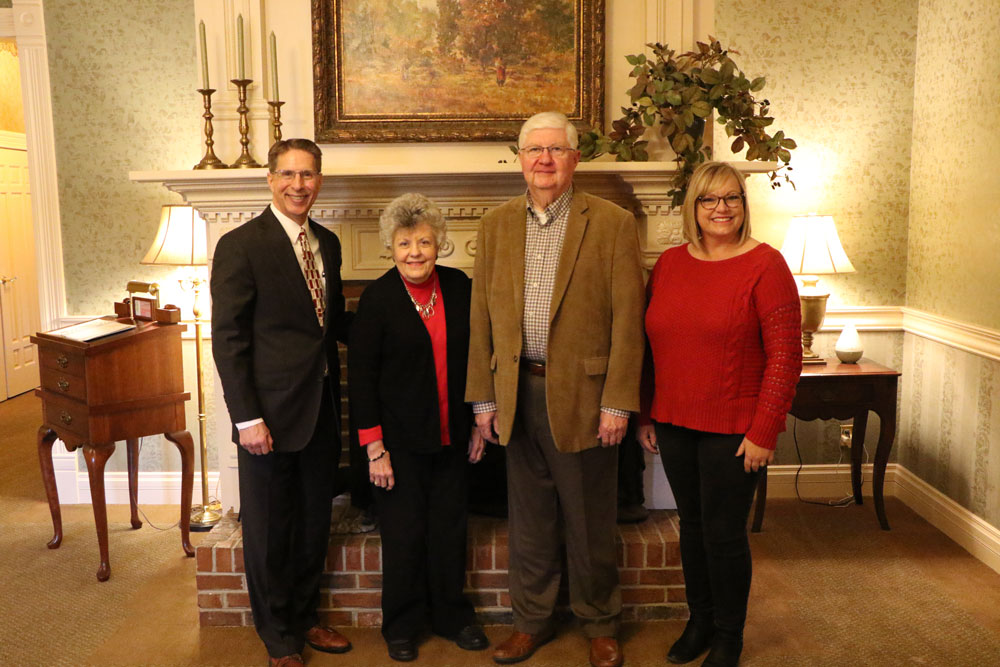 Photo: LCC President Dr. Mark Watkins, Carson-Wall Funeral Services owners Shirley and Gary Wall, along with LCC Foundation & Alumni Executive Director Lindi Forbes are pictured during the gift announcement made by the Wall family for the LCC Pathway's to the Future Capital Campaign.
---
Parsons, KS – The Wall family, owners of Carson-Wall Funeral Services, have pledged a generous donation to support the next phase in Labette Community College Foundation's Pathways to the Future Capital Campaign. This gift will help the college renovate and expand the athletic facilities to meet the needs of students and better serve the community.
The Burris-Wall Funeral Home was established in the fall of 1965 and opened for business in January of 1966. In 1974 they purchased the Blossom-Demuth Funeral Home in Parsons, located at 2300 Main, closing that location. The Carson-Dick Funeral Home merged with the Burris-Wall business in 1979 and the name changed to Burris-Carson-Wall Funeral Home, acquiring funeral homes in Parsons and St. Paul. They built the present Parsons location, 26thand Main, and started using it in the summer of 1980.  They acquired the funeral home in Girard in 1982 and the funeral home in Erie in 1986. The Walls have built new funeral homes in each of the four towns to meet current standards and accommodate the public they serve.  Several years ago the Walls acquired and remodeled a building next to the Parsons funeral home that is now the Wall Family Center.  That building provides space for family funeral dinners and gatherings in addition to community events. Today, Carson-Wall Funeral Services is still a locally owned business. Gary and Shirley Wall are owners while Gary has served as funeral director since 1966. Their son, Ned Wall, and son-in-law, Justin Brown, also serve as funeral directors in addition to other long tenured staff. 
Gary Wall graduated in 1959 from Parsons Junior College, which is now Labette Community College. His son, Ned Wall, is also a graduate of Labette Community College. Gary's two sisters graduated from PJC, while their father and several aunts and uncles attended as well. Through the years many Carson-Wall Funeral Services employees have attended LCC including current staff of Justin Brown, Brian May, and Marty Mendicki.  
"It is a great benefit to have the community college in Parsons to offer higher education close to home at a reasonable cost," Wall said. "The college is an important economic factor in our area – the educational opportunities and employment positions is a real boost to our economy. The students and staff all spend money and live in the Parsons area and the surrounding counties."
In the past, Gary served two terms on the Labette Community College Foundation board. He also served on the steering committee for the first phase of LCC's Pathways to the Future Capital Campaign, which constructed the Zetmeir Health Science Building and increased endowment funds at LCC. He now serves as co-chairman of the second phase of the Pathways campaign to expand and renovate LCC athletic facilities.  
"Our family supports the college because we recognize how important it is for this area," Wall said. "This project is important to the college and community. Our athletic facilities are lacking and we need to update in order to stay competitive with other colleges. Everyone will benefit from the new facilities, students and community alike."
The Wall family and staff are supportive in all communities they serve. They currently serve or have served in leadership positions in various churches, Rotary, Kiwanis, Lions, Labette Health, Parsons Area Community Foundation and the Parsons Educational Foundation.
"The Wall family has been a friend of Labette Community College and numerous organizations for decades. Their gift to this capital campaign will truly imbed their belief in the value of higher education for generations to come," said LCC Foundation Executive Director, Lindi Forbes. 
Private support for LCC's capital campaign can come through outright gifts of cash, bequests, life insurance policies, gifts of real estate, and other giving mechanisms. Individuals or businesses can choose to give in a variety of ways, even to spread out payments up to five years. This makes the giving capacity larger and more feasible for more people. 
For more information on how to give to the Pathways capital campaign, please contact Forbes at 620-820-1212 or lindif@labette.edu. Gifts may also be mailed to: 200 South 14th, Parsons, KS 67357.