Driving into the Future FORD RANGER Raffle
Only 1,000 Chances Will be Sold!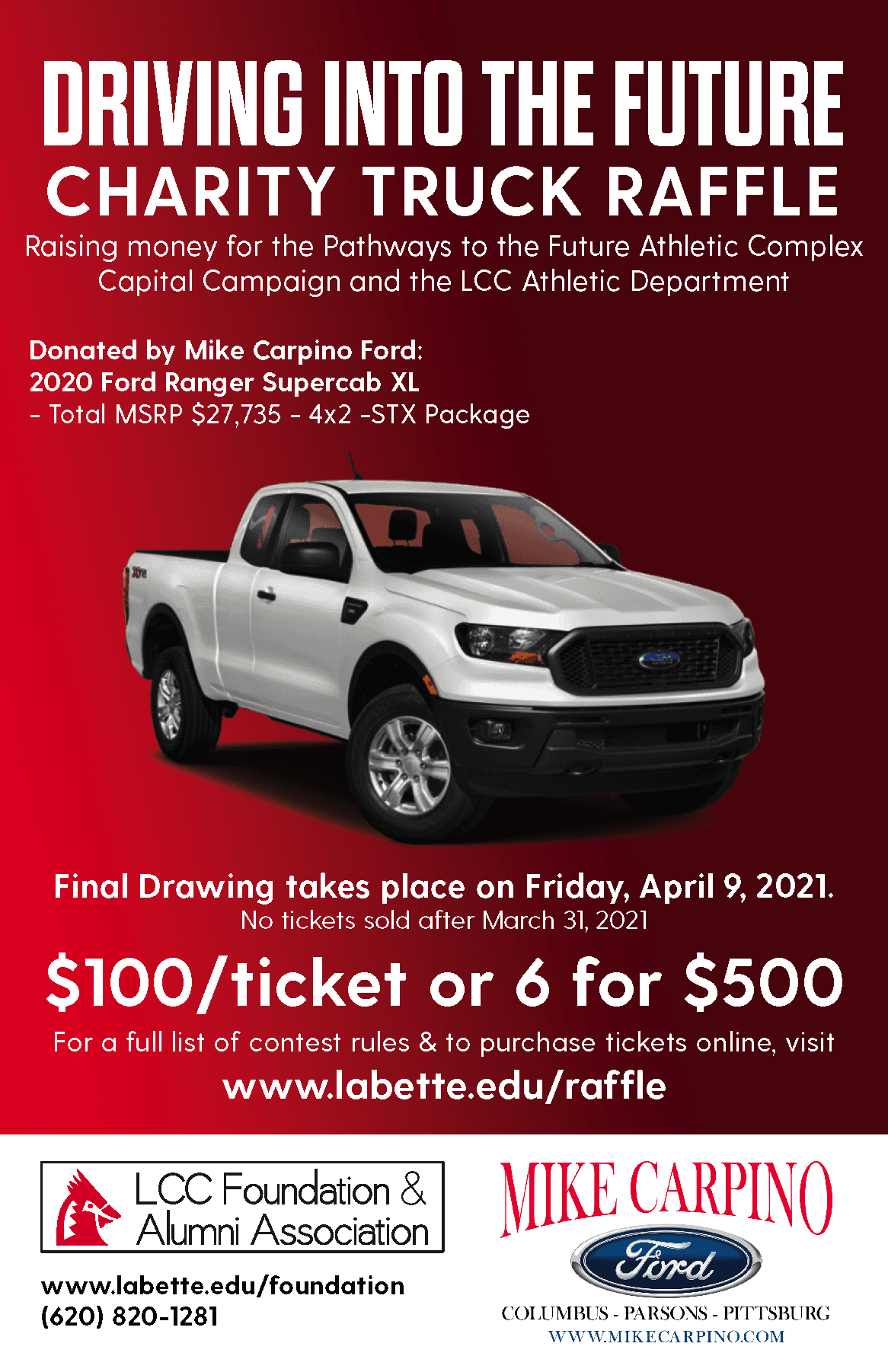 ---
2020 FORD RANGER RAFFLE OFFICIAL RULES
Labette Community College Foundation ("LCC Foundation") is a tax-exempt charitable organization organized pursuant to Section 501(c)(3) of the Internal Revenue Code (the "Code"), and is conducting the 2020 Ford Ranger Raffle (the "Raffle") to raise funds for the Pathways to the Future Athletic Complex Capital Campaign and the LCC Athletic Department. The rules governing said Raffle are set forth below:
PRIZE
2020 Ford Ranger Supercab XL in Oxford White with STX package and 4x2 wheel drive. MSRP $27,735. No cash option available. The vehicle winner is solely responsible for any pickup or delivery costs, as well as any non-standard options which may be chosen by the winner and must be negotiated at the time of delivery with Mike Carpino Ford in Parsons, Kansas. The vehicle is subject to availability and LCC Foundation may substitute the Prize with a comparable vehicle in the unlikely event of loss.
DRAWING AND FINALISTS
An initial drawing for 5 finalists in the Raffle will be held on March 31, 2021 at Labette Community College, 200 S. 14th St., Parsons, Kansas, with the final winner of the 2020 Ford Ranger (the "Prize") to be drawn from among said finalists on April 9, 2021. In the event that any winner's name is drawn twice as a finalist, that finalist shall be awarded the corresponding number of chances in the final drawing. LCC Foundation intends to simulcast the drawing on the internet, if possible. The finalists and the drawing for the winner will be open to the public (subject to legal restrictions on public or mass gatherings on the prescribed dates). LCC Foundation reserves the right to draw the finalists and the ultimate Prize winner after the prescribed dates, if less than 1,000 tickets are sold, or for any reason which prevents such timely drawing outside of LCC Foundation's control. The winner does not need to be present to win. No Tickets will be sold after March 31, 2021 at 7pm (CST) provided at least 1,000 tickets are sold.
ODDS OF WINNING
The odds of winning the Prize will depend on the ultimate number of Raffle tickets sold, but shall not be less than 1:1,000. If fewer tickets are sold, the chance of winning the Prize improves.
TICKET PRICE
Raffle tickets are available to all persons 18 years of age and older at a cost of $100 each or 6 for $500. Only one method of payment, one name, and one mailing address are permitted per ticket. Only one eligible person may be entered in the raffle per each ticket sold. If the name of more than one person is submitted with any ticket purchase, then only the person named first will be deemed the holder of record of that ticket and declared the winner. Division of Prize by a group or entity purchasing a ticket in common shall be the sole responsibility of the first person named as the holder of record of that ticket. LCC Foundation reserves the right to reject any entry or ticket purchase that is submitted with a payment method that does not clear or otherwise fails to constitute "good funds", including but not limited to any returned check or canceled or rejected electronic or digital purchase. All defective, tampered or physically altered raffle tickets will be immediately disqualified by LCC Foundation. Prior to the Prize drawing, LCC Foundation will make a reasonable effort to notify an individual and/or entity whose entry is disqualified or for which payment has been rejected. LCC Foundation assumes no responsibility for lost, late, misdirected or non-delivered mail or electronic entries, purchases or other messages, or any other failure to receive orders or deliver tickets prior to the drawing deadlines.
TICKET PURCHASE
Raffle tickets may be purchased in any number (at least one), subject to availability and the total authorized amount. Raffle tickets may be purchased online at http://labette.edu/raffle, by calling 620-421-6700 ext. 1212 or through individuals authorized by LCC Foundation to sell tickets. No refunds will be made except for ticket orders where payment is received after the close of ticket sales. LCC Foundation assumes no responsibility for lost, late, misdirected, or any other failure to receive orders or deliver tickets prior to the drawing deadline.
TAXES AND FEES
The winner of the Prize shall assume all governmental fees and all local, state and federal taxes which must be paid on the Prize, including any taxes or fees owed at the time of delivery, as well as all state or local title, registration, and other fees. LCC Foundation makes no representation of the Prize value for purposes of the Code and makes no representation regarding the determination of any income tax that may be due from the Prize winner. Proof of liability insurance may be required prior to delivery. LCC Foundation takes no responsibility for any tax liabilities, owner costs or transfer costs. Each participant should consult their own tax advisor. This offer is void where prohibited by law, and all federal, state, and local laws apply. The Code does not currently permit amounts paid for chances in a raffle, lottery or similar drawings for valuable prizes to be treated as gifts, and consequently purchases do not qualify as tax deductible charitable contributions for federal income tax purposes.
PARTICIPANT AGREEMENT
Each Raffle participant accepts and agrees (1) to be bound by all the rules and limitations set forth herein and (2) that their names and/or likenesses may be disclosed and used by LCC Foundation, including a release to news media or internet publication of finalists or the Prize Winner. Other rules and regulations may apply. Please contact LCC Foundation at 620-421-6700 ext. 1212, if you have questions. Each participant releases LCC Foundation, its directors, trustees, officers, employees and agents from any and all liability for injuries, losses or damages of any kind caused by participation in the Raffle or resulting from acceptance, transfer, ownership, use or misuse of the Prize, and the winner agrees to indemnify and hold LCC Foundation harmless from any and all losses, damages, rights, claims and actions of any kind rising in connection with or as a result of participation in the Raffle or the winner's acceptance or use of the Prize. Each participant's sole and exclusive remedy for any unanticipated breach by LCC Foundation shall be limited to the return of the purchase price paid for his or her Raffle ticket(s). In no event shall LCC Foundation, its directors, officers, employees, agents or representatives be liable to any party for any loss or injuries to earnings, profits or goodwill, or for any incidental, special, punitive or consequential damages of any person or entity whether arising in contract, tort or otherwise, even if advised of the possibility of such damages. LCC Foundation's interpretation and application of these rules shall be deemed final in its sole discretion.
NOTIFICATION OF WINNERS
The finalists and Prize winner will be notified according to the contact information provided to LCC Foundation at the time of ticket purchase. If a finalist cannot be located after reasonable attempts using the contact information provided at the time of purchase, another finalist will be selected for the Prize. Should the Prize winner not claim or take delivery of the Prize within 75 days of the final drawing, the Prize will be forfeited, and another winner will not be selected.
In order to collect his or her prize, a Raffle ticket winner may be required to sign and deliver to LCC Foundation: (1) a sworn affidavit of eligibility in accordance with these Rules and applicable law, including without limitation that he or she is at least 18 years old at the time he or she purchased the winning Raffle ticket; (b) such written information as is required by any applicable tax and/or personal property laws for title transfer, including without limitation his or her Social Security Number; (c) proof of identity in forms satisfactory to LCC Foundation showing that the person claiming the prize is the same person who is named on the winning Raffle ticket.; and (d) the winning Raffle ticket stub. The Prize winner may be required to submit a W-9, Form 5754 or similar tax form for income tax reporting purposes.
ELIGIBILITY
Participants must be 18 years of age or older at the time of Raffle ticket purchase. The LCC President, the LCC Athletic Director, the LCC Foundation Director and the LCC Foundation Assistant (and their immediate family members currently residing in the same household) are excluded from participation and are not eligible to win the Prize. All federal, state, and local laws apply. The Raffle is void where prohibited or restricted by law.

OTHER TERMS AND CONDITIONS
The Prize will be transferred by manufacturer's title through Mike Carpino Ford, Parsons, Kansas, to the Prize winner. LCC Foundation does not make or provide any representation or warranty, expressed or implied, in connection with the Prize and accepts no liability or responsibility regarding the same. No warranty of merchantability is express or implied. No express warranties are given and no affirmation of LCC Foundation by words and/or actions will be deemed to constitute a warranty. Participants acknowledge and agrees that LCC Foundation has the right, in its sole discretion, to elect not to proceed with the raffle for any reason whatsoever or for no reason, and in such event, a participant's sole and exclusive remedy shall be to receive a refund of the full price paid by such participant for each Raffle ticket purchased, without interest.